Phil Jasper believes business and leadership skills, combined with a "world class" engineering education at Iowa State University, contributed to his long-term career success.
Jasper, a 1991 aerospace engineering alumnus, was recently named executive vice president and chief operating officer of Government Systems at Rockwell Collins, an Iowa-based communication and aviation electronics company.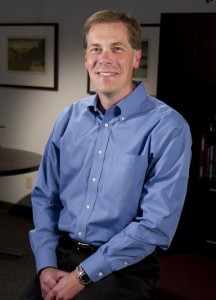 A Lamont native, Jasper says he grew up fascinated by the space program, and the unmanned Voyager missions in particular. That led him to his aerospace engineering undergraduate studies at Iowa State, his interest in avionics, and a master's degree that he completed in 1991. While he was at Iowa State, he also gained a foundation in business administration through a minor in his graduate studies.
He joined Rockwell Collins in 1992 because his interests matched nicely with the needs of the company, and he continued to progress to project management and technical leadership roles within the engineering department.
Over the years, Jasper served as the company's vice president of Business Development for Government Systems. He also served as vice president and general manager of Mobility Rotary Wing Solutions. Additionally, he was technical director and programs manager of Rockwell Collins' KC-135 program, the U.S. military's refueling aircraft; director of air mobility, bombers and special mission programs; and senior director of Air Force programs.
He says the technical and business aspects in his education provided a blend of skills that have served him well through his career.
"If you want to be an engineer and focus simply on the engineering problem, you can certainly do that," Jasper explains. "But what I see in engineering, both generally as a profession and what I've found personally, is having a broader background allows engineers to truly understand how their technical skills fit into the broader scope of an organization. Once you understand that, you provide greater value to the company, and there are many more advancement opportunities."
Jasper adds that leadership skills he developed as a student carried into his career as well.
"I don't think I would have necessarily viewed myself as a leader when I was a student. But looking back on it, there were some intrinsic attributes revealing themselves. I served as president of my dorm floor one year; I was a member of the aerospace honor society; and I led a team for my senior design project," he says.
Another important part of that business and leadership acumen, according to Jasper, is the ability to communicate well.
"It's one thing to have a great engineering idea," he says, "But if you can't communicate it in an understandable way, it's hard to generate support for it inside the organization."
This way of thinking is especially true for representing work to potential customers, particularly for those like Jasper who might accompany sales people to make presentations.
"Being able to explain complex technologies and solutions to people without technological backgrounds is critical to doing business," he explains.
Stressing the importance of those skills is why Jasper is a member of Iowa State University's Aerospace Industrial Advisory Council for the College of Engineering. He's seen how industry and education have changed for the better.
Particularly, he appreciates how systems engineering is getting more recognition in the academic setting.
"When I was in college, there wasn't a good feel for how my work interacted with the other aspects of a design in a project," he says. "In the design of a complex system, there are often many specialties involved, and they all need to be communicating and understanding how they affect each other and the final product. Engineering education really needs to be stressing that, and they are meeting that challenge."
Jasper says Iowa State University provides an engineering education that is "top tier," along with the resources for the additional skills needed to find a satisfying engineering career.
"The rewarding thing about being an engineer is being able to see the direct impact of your work in a good way," Jasper says. "One of my first projects, and those systems are still out there, was used to more efficiently deliver humanitarian relief like food and medical supplies to where they were most needed. I can look at that and know that my engineering had a positive impact on those less fortunate in the world."