The safe, effective production of clean energy is a worldwide undertaking, so it's only natural for researchers at Iowa State University to collaborate with scientists from around the world to develop solutions.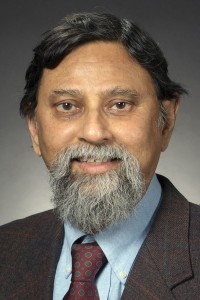 Vikram Dalal, Director of the Iowa State Microelectronics Research Center and Thomas Whitney Professor in electrical and computer engineering, has developed a collaborative partnership with researchers at Nazarbayev University (NU), a new University in Kazakhstan's capital city of Astana. The research-focused University is named after Kazakhstan's current President, Nursultan Nazarbayev, who seeks to bolster the Central Asian nation's scientific and technological prowess by following the recent model of Saudi Arabia.
"[Nazarbayev University] is setting up an exceptional lab with excellent equipment," Dalal says. "They are in the beginning stages, but they are doing everything right."
When Dalal heard of this new initiative, he saw the chance to reach out and combine the resources and skill of Iowa State with the bright young scientists at NU. Dalal visited Kazakhstan and spoke with NU professor Galymzhan Koishiyev about collaborating on solar cell research. Koishiyev had previously been trained in solar energy research at Colorado State University.
Together, they're researching a new generation of organic solar cells; a type of electronic device that uses conductive organic molecules like a conventional solar panel. Organic solar cells are more cost-effective than conventional solar panels because of their ability to absorb more energy with less material, but in their current level of development, they're not very efficient and are unstable. Dalal and researchers at NU seek to stabilize this technology and make it more efficient.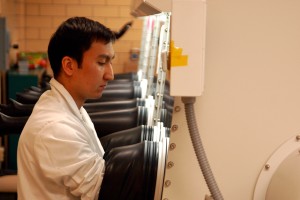 The Iowa State program's significant experience with understanding and improving the efficiency and stability of a number of different solar materials, including amorphous and nanocrystalline Si cells, makes it uniquely qualified to understand the physics of stability in organic solar cells. The program is the first of its kind to address the physics of instability, which made Iowa State a convincing sell when Dalal suggested collaboration to Nazarbayev last year.
Three NU scientists have since visited Dalal's labs at the Iowa State Microelectronics Research Center to learn more about the fabrication of organic solar cells. The researchers will take that knowledge home with them to continue their work. As for Dalal, he hasn't had difficulties with any cultural differences between the U.S. and Kazakhstan.
"Most of the scientists I work with were trained in the West," Dalal said. "A tremendous advantage has been that [NU] is English-speaking; all its students speak English and the medium of instruction is English."
Dalal also noted that NU is modeling itself after leading western universities, and has many interactions with universities in Western Europe in addition to its relationship with Iowa State.
The collaboration already has seen success. A presentation authored by both universities was given at an international meeting of the Materials Research Society. This was just the first of many publications expected to come from the collaboration. In the meantime, Dalal plans to visit Kazakhstan every year to discuss research progress. He hopes these visits from both parties will lead to a strong professional relationship between Iowa State and Nazarbayev University.
"This demonstrates that it is possible to have excellent scientific interaction even when two parties are separated by 9,000 miles," Dalal said. "All that's required is a mutual respect and understanding, and a willingness to work hard on both sides to solve mutually interesting problems."