Prasad Raman, a senior in aerospace engineering from Eden Prairie, Minn., will serve as the College of Engineering's student marshal in Iowa State University's spring 2013 commencement ceremony on Saturday, May 13. He will be accompanied by Alric Rothmayer, a professor in aerospace engineering and mathematics.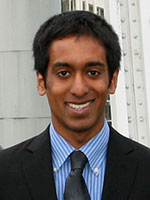 "I have had the opportunity to interact with some outstanding students during my time here, and it is truly an honor to be selected as student marshal," said Raman. "I would be remiss if I claimed this accomplishment was all of my own doing. My family who supports me, the ISU faculty who are truly invested in their students' success, and the student body that creates an exceptional campus environment all deserve just as much credit."
Raman double-majored in aerospace engineering and economics, with a minor in Spanish. He has been recognized for his high academic achievement by the aerospace engineering department, which named him a Distinguished Senior for May 2013; and by the Congress, which named him a recipient of a 2012 honorable mention for the Goldwater Scholarship, an award that recognizes outstanding achievement in STEM fields. Raman is also a George Washington Carver Scholar.
Bolstering his academic achievement with notable research and design projects, Raman interned at Boeing with the group supporting the CH-47 rotorcraft and V-22 Osprey tilt rotor. He was an undergraduate research assistant under Rothmayer, where he investigated the solution of aerodynamic boundary layer equations for flow over various surface topographies. Raman was also part of a Boeing-sponsored senior capstone design project.
In addition, Raman pursued multiple leadership positions while at Iowa State. He served as president of Cyclone Business Jet, a 120-member student organization that is building a prototype for a 10-passenger executive jet. He was also the president of Iowa State chapter of Sigma Gamma Tau, the national aerospace engineering honor society.
After graduation, Raman will participate in a graduate leadership program sponsored by Rolls Royce and has accepted deferred enrollment into the Harvard Business School's MBA program.
Outstanding seniors are:
Taylor Anderson, software engineering
Edward Angus, mechanical engineering
Jennifer Carda, industrial engineering
Teresa Goeddel, materials engineering
Anna Grimley, electrical engineering
Deborah Metz, agricultural engineering
Andrew Montag, computer engineering
Emily Rickenbach, chemical engineering
Justin Wenger, construction engineering
Bryan Whitson, civil engineering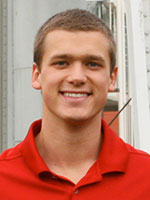 Graduating with a major in software engineering and a minor in mathematics, Taylor Anderson, of Storm Lake, Iowa, was actively involved in advancing the software engineering program at Iowa State. He served as a member of the program's Student Advisory Board and facilitated town hall meetings to get feedback from his peers regarding the software engineering curriculum. Anderson also completed three internships. While he was at Rockwell-Collins in Cedar Rapids, Iowa, he automated testing for radio waveforms; at Garmin International in Olathe, Kan., Anderson helped implement a multimedia module on an agile development team; and for WebFilings in Ames, Iowa, he identified, analyzed, and corrected software bugs. Outside of academics, Anderson was an active member of the Cornerstone Church in Ames and was the lead guitarist for The Salt Company, a student group at the church.
Edward Angus, of Peoria, Ill., pursued a varied educational experience while earning a degree in mechanical engineering. He studied abroad for a year at the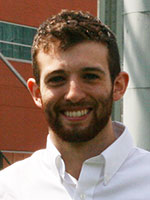 University of Edinburgh and also participated in the Wind Energy Science, Engineering, and Policy Research Experience for Undergraduates, sponsored by the National Science Foundation, in 2012. He was a member of MSE Associate Professor Michael Kessler's polymer composites research group, and worked as an undergraduate teaching assistant for engineering statistics and mechanics of materials coursework. His extracurricular activities included membership in the Iowa State Mountaineering and Climbing Club and volunteering as a trail crew member for the Appalachian Trail Conservancy. Angus interned as a quality assurance engineer at the Bobcat Company. After graduation, he will intern with Caterpillar before going on to graduate school to pursue his M.A.Sc. in mechanical engineering at the University of British Columbia, where he has been awarded the Gartshore Fellowship.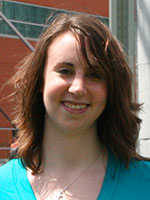 Enhancing her degree in industrial engineering, Jennifer Carda, of Littleton, Colo., spent countless hours serving both the community and campus as a student.Through her membership in Kappa Alpha Theta, she volunteered at events supporting Court Appointed Special Advocates (CASA), and for blood drives, Veishea's Service Day, and the Engineering Career Fair. Carda was involved in the educational process of her fellow students, working as a peer mentor for the Industrial Engineers are Leaders (IDEAL) freshman learning community and as an undergraduate teaching assistant for IMSE classes. She was also a member of the Alpha Pi Mu Industrial Engineering Honor Society. After graduation, Carda will work as an associate supply chain quality engineer for Ball Aerospace and Technologies Corp. in Boulder, Colo.
Teresa Goeddel of Cedar Rapids, Iowa, earned a materials engineering degree with an emphasis in metals, polymers, and electronics. She also received a second major in Spanish and was inducted into Phi Beta Kappa in 2010 for her academic performance.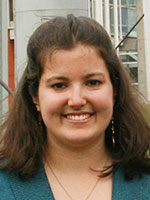 To apply her education globally, she studied abroad in both Spain and Ecuador. Goeddel also worked for several companies as an intern: IBM Microelectronics, Caterpillar Inc., Honeywell FM&T, and Boston Scientific Corporation. At Iowa State, she worked for MSE Associate Professor Michael Kessler as a research assistant and technical editor. Goeddel participated in a variety of student activities, including the Society of Women Engineers, the ISU Wind Ensemble, and the Materials Science and Engineering Learning Community. After graduation, she will work as a process engineer for 3M in Woodbury, Minn.
Anna Grimley, of Springville, Iowa, enriched strong academic performance in her major of electrical engineering with multiple internships. In the summer of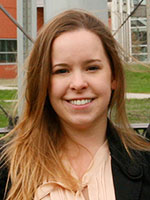 2009, she was a technical intern in Rockwell Collins' digital signal process department of RC-government systems. Another year, she interned at Honeywell Federal Manufacturing Technologies, and later in Honeywell's metrology department and firing systems i-lasers and optics department. Most recently, she worked as an associate electrical engineer in product development design services for Logic PD. Grimley also volunteered her time in multiple activities. She was a University Admissions Volunteer Tour Guide for four years. She also served as the 2010 Engineering Fall Career Fair co-chair and the 2011 Engineer Week general co-chair. After graduation, Grimley plans to move to the Minneapolis, Minn. area. She is currently interviewing for design and applications engineering positions.
Deborah Metz, of Albia, Iowa, received a degree in agricultural engineering with an emphasis on power and machinery. During her time at Iowa State, she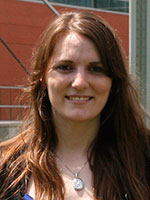 worked in ISU Dining and as an assistant to Steven Mickelson, agricultural and biosystems engineering department chair. Metz was heavily involved in outreach through the Society of Women Engineers, where she served as the recruitment chair, secretary, and membership director. Metz also served as a peer mentor to new students to the Iowa State community. After graduation, she will work as a train dispatcher with the Union Pacific Railroad in Omaha, Neb.
While studying computer engineering, Andrew Montag, of Manchester, Iowa, found ways to engage people in technology, even writing several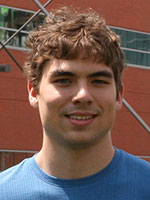 sections in the Ubuntu Manual for the open source operating system. He worked on projects that monitor and analyze the human decision-making process for the Virtual Reality Applications Center on campus, and he interned at National Instruments in Texas, developing user-facing features. He was the vice president of the ISU Robotics Club and previously served as a team leader. He also tutored electrical, computer, and software engineering students in the HKN help room. Montag gave hundreds of hours of his time in outreach to the College of Engineering, serving as an ECpE Student Ambassador and volunteering at the IT Olympics. He studied abroad at Nanyang Technological University in Singapore. After graduation, Andrew will work at National Instruments in Austin, Texas as a software engineer.
Earning two degrees, Emily Rickenbach of Eden Prairie, Minn., graduated summa cum laude in chemical engineering and math. As a member of the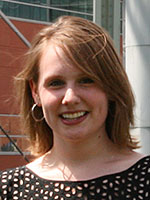 Engineering Honors Program, she completed a research project and was an applied research intern at St. Jude Medical, Inc. At Iowa State, Rickenbach was an assistant in the Biorenewables Laboratory. She also tutored fellow students as a supplemental instruction leader and served as a grading assistant for the Department of Chemical and Biological Engineering. Rickenbach was an active member of Tau Beta Pi, and was involved in intramural sports and residence hall activities. After graduation, Emily will be working for Emerson Process Management in Eden Prairie.
Justin Wenger, of Ryan, Iowa, graduated with a degree in construction engineering with an emphasis in building. During his time as a student,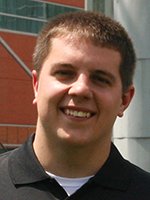 he won numerous academic awards, including a Master Builders of Iowa scholarship and a National Association of Women in Construction scholarship. Wenger enhanced his academic achievement with experience as a laborer for Wenger Construction and Jensen Construction; as a project manager and intern for Heartland Finishes; and as an intern for Faithful + Gould. As part of the student chapter of the National Electrical Contractors Association, he and his teammates placed third in the national competition of the Green Energy Challenge. And as a member of the student chapter of the Associated Schools of Construction, he co-lead the commercial team to first place in regional competition two years in a row. Wenger also served as a peer mentor and a teacher's assistant for the CCEE department, as well as in leadership positions with the student chapter of the Associated General Contractors. After graduation, Wenger has accepted a position as a project manager for Seedorff Masonry, Inc. of Des Moines.
Highlighting his academic success, Bryan Whitson, of Mundelein, Ill., completed a degree in civil engineering with a minor in entrepreneurial studies summa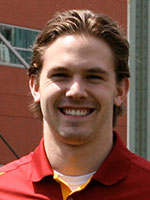 cum laude. As a student, Whitson conducted undergraduate research with the Center for Nondestructive Evaluation for two years, and he also worked as a teacher's assistant for CE 306, leading laboratory sessions and guiding students. Whitson was a member of the student group for the National Electrical Contractors Association, which allowed him to participate in the Green Energy Challenge for two years, during which he helped the team earn a third place finish in the national competition in fall 2012. He also served as undergraduate seismic design chair for the Earthquake Engineering Research Institute and was instrumental in drastically improving the club's standings in a national design competition. Whitson studied abroad in Valencia, Spain. He completed internships with Kimley-Horn & Associates of Dallas, Texas, where he will work after graduation.