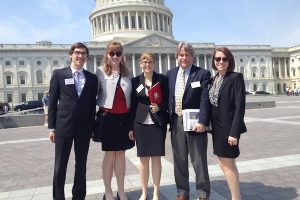 Iowa State engineering students recently got a rare chance to explain the importance of their research to members of Congress. The university's student chapter of Material Advantage sent members to Washington D.C. to promote the importance of science as part of the national organization's Congressional Visit Day, April 10-11, 2013.
Material Advantage organizes the event annually to raise awareness for science and technology among elected officials. This year, the group consisted of 37 students and faculty from 13 universities, including four students from Iowa State accompanied by MSE faculty member and Ames Laboratory senior scientist Iver Anderson.
Lisa Rueschhoff, president of the ISU chapter and a senior in materials engineering, said the informal visits took place in the offices of Congress members and their staffers, including Rep. Dave Loebsack, D-Iowa; Rep. Steve King, R-Iowa; Rep. Tom Latham, R-Iowa; and staffers for Sen. Claire McCaskill, D-Mo.
"Each of us came with our own stories, explaining the research we are involved in as undergraduate students," she said. "I work on a research project involving lithium ion batteries, so I explained to them how important this research was for alternative fuel technologies."
Rueschhoff added that she found the Congress members receptive and positive about the group's message.
"I was pleasantly surprised. They all seemed very open to our efforts to get the word out about the importance of materials science and demonstrate how even basic research can have a big impact technologically and economically," said Rueschhoff. "We especially emphasized the economic benefits to the state of Iowa."
Material Advantage members expressed concern to Congress members that federal budget dealings on Capitol Hill could have far reaching effects on scientific research.
"Everyone we met was well-informed and saw the importance of science and its role in our nation's progress. I was encouraged by their positive response to our concerns," said Rueschhoff.