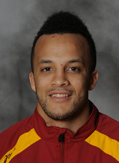 Max Mayfield is the Iowa State Wrestling team's 149-pound senior. He's also a computer engineer. Mayfield, who graduated in 2012 with a degree in computer engineering, punched his ticket to the 2013 NCAA Wresting Championships in Des Moines with a second-place finish at the Big 12 Wrestling Championships in early March.
"It's a great feeling," Mayfield says. "This is my fifth year on the team, and [making the championships] is always what you're striving for. I haven't been able to get there before, so it's pretty exciting."
Mayfield earned his berth with a 4-2 upset over Oklahoma's Nick Lester, who is ranked 16th in the nation, at the Big 12 Championships. He'll face Michigan's Eric Grajales, a three-time NCAA qualifier, in his NCAA debut Thursday morning at Wells Fargo Arena in Des Moines. That setting, Mayfield feels, could aid him in his upset bid.
"I wrestled there for three state tournaments in high school," he says. "So it's almost like going back home a little bit."
Mayfield is from Davenport, but his family has made Ames a surrogate home. Two sisters attended Iowa State before he did, and that exposure helped put ISU on his map.
"It's interesting how I ended up here," he says. "I knew I wanted to go into engineering. I had two sisters already here, so that and the engineering school's reputation really put things over the top. After I had already decided I was coming here, Coach Cael [Sanderson] contacted me and talked to me about wrestling. I said absolutely and never turned back after that."
Mayfield started in the civil engineering program, but transferred to computer engineering in the ECpE department after his first semester.
"I've always been kind of a computer geek, and at some point during the first semester I decided that would be a better major for me," he says. "It's worked out pretty well."
Currently, Mayfield is enrolled in the MBA program, but he doesn't want to stray too far from his engineering roots.
"My engineering knowledge has been valuable, and I don't want to get away from that. I love engineering. The reason I went into the MBA program, is I think it will make me a more valuable engineer. Knowing the technical and the business sides of things will be important."
Mayfield's career goal is to be involved in product innovation. He wants to lead teams that are developing new products and forging new paths. The team aspect, he says, is essential, and it's something he can draw on from both his ECpE education and his wrestling experience.
"When you're doing big engineering projects, teamwork is essential," he says. "You won't be able to do everything by yourself; you'll have to split things up. That gives you a different approach to things, and that different approach can be a valuable thing."
*Photos courtesy Iowa State Athletics Communications