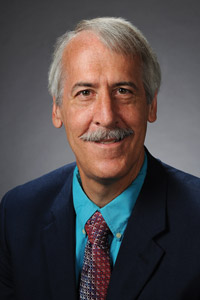 Doug Jacobson, University Professor of electrical and computer engineering and IEEE fellow, was presented with a 2012 Major Educational Innovation Award from the IEEE Educational Activities Board at a ceremony held in Austin, Texas, February 15.
The award recognized Jacobson's career in instruction and educational outreach, citing him for "creating innovative materials that support the teaching of information technology and information assurance to students of all ages."
"It's a little bit of a surprise, but a pleasant one," said Jacobson. "I've been working on security programs for a long time. It feels good to be recognized by IEEE."
Jacobson's nomination considered his role as founder and director of the Information Assurance Center (IAC) at Iowa State University, which fosters education in computer security. He is also credited with developing the Internet Scale Event and Attack Generation Environment (ISEAGE), a simulation environment used both for education and research.
Additionally, Jacobson started a certificate program in information assurance on campus and through distance education, and has written a book and developed a course on security literacy for non-engineering students. He has ongoing goals to introduce more security coursework for undergraduates.
Jacobson was also noted for his role in education outreach for high school students, including creating IT-Adventures, a program that promotes interest among young students in information technology.
"Cyber security has always been a passion for me, and it's a challenging field because the adversary in this case is other people. Computer hackers are dynamic and they change what they do quicker than we can change our defenses," he said.
"The concept of security literacy is in its infancy right now. People are aware, but that doesn't help them unless they are armed with information and steps to take. That's the intent behind literacy and outreach and why we need to be constantly finding ways to push it forward."