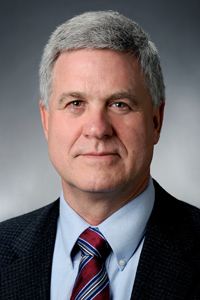 AMES, Iowa – Terry Wipf has been named chair of the civil, construction and environmental engineering department for Iowa State University's College of Engineering. Wipf has served as interim chair of the department since August 2011.
Wipf has demonstrated a long and productive career at Iowa State where he received the College of Engineering David R. Boylan Eminent Faculty Award for Research in 2000, and was named the Pitt-Des Moines Professor of Civil Engineering in 2002. He has held multiple leadership positions within the department and college, as well as at the national professional level.
Wipf served as the director of the Bridge Engineering Center and co-director of the National Center for Wood Transportation Structures housed at the Institute for Transportation. These positions allowed him to work on research in bridge engineering, nondestructive evaluation, structural health monitoring and advance materials and construction methods where he developed an excellent research portfolio.
"Terry has provided strong leadership as interim chair of the department and we look forward to that leadership continuing," said Mufit Akinc, interim dean of the Iowa State College of Engineering. "He has created a positive and collaborative atmosphere and enjoys extremely strong support from the department faculty, staff and students. Terry's vision will continue to advance the department and our college."
Wipf says he is at a point in his career where it's important to give back and contribute what he can toward maintaining and enhancing the department's strengths. "I feel fortunate to have experienced a satisfying career and I'm excited to be part of a large, dedicated and high-quality department with people who are engaged and share the vision of maximizing our efforts," Wipf said.
Enrollment in the department of civil, construction and environmental engineering department has steadily increased over the last 20 years. There are currently about 1,200 undergraduate and graduate students.
Contacts:
Terry Wipf, College of Engineering, (515) 294-3532
Ann Wilson, College of Engineering, (515) 294-4881