by Thane Himes
ECpE alumnus Agustin A. Irizarry-Rivera (PhD EE '96) has made quite a name for himself in his home territory of Puerto Rico. Irizarry-Rivera recently was elected to the Puerto Rico Electric Power Authority (PREPA) Board of Governors.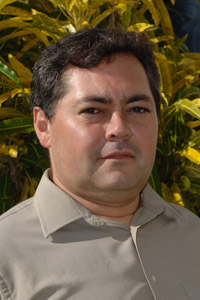 "I was pleased and honored to have been elected," Irizarry-Rivera said. "It is a public service."
As a member of the board, Irizarry-Rivera will be part of top-level decisions involving issues that include engineering, finance, markets, legal issues, taxes, and labor disputes.
"I am responsible, with my fellow board members, for overseeing PREPA's operations, finances, services to customers, legal responsibilities, and more," Irizarry-Rivera said. "In my case, I am one of two elected customer representatives in charge of safeguarding the public interest with special attention to the rate-payer concerns."
Irizarry-Rivera will continue to work at the University of Puerto Rico's Mayaguez campus (UPRM), where he serves as a professor in electrical and computer engineering. At UPRM, Irizarry-Rivera also has served as an Associate Dean of Academic Affairs, and continues to serve as president of the Electrical and Computer Engineering Department Personnel Committee.
"Balancing [my work with the PREPA] with my teaching and research at UPRM is difficult, as there is plenty of work to be done at PREPA," Irizarry-Rivera said. "So far, it has been additional work to be done on my own time."
Irizarry-Rivera began his higher education at UPRM as well, receiving his BS in electrical engineering in 1988, where he graduated Magna Cum Laude. He later obtained his MS in electrical engineering from the University of Michigan in 1990. Finally, he earned his PhD in electrical engineering from Iowa State in 1996.
Energy is an important subject to Irizarry-Rivera. His research interests include renewable energy sources and electric energy storage, and he has overseen a project sponsored by the Puerto Rico Energy Affairs Administration to research wind power and its potential uses in Puerto Rico. He also worked on projects to determine the energy requirements for an electric energy storage unit for Puerto Rico's power systems. Irizarry-Rivera's work helped lead to a system that serves as a rapid-response emergency backup in case of a blackout.
"All University professors, specifically those at service in a public school, should put their knowledge and expertise at the service of their community," Irizarry-Rivera said. "With my power systems background, I found the opportunity to serve on PREPA's Board to be a challenge and a good fit with my expertise,"
Irizarry-Rivera has garnered a number of honors over the years. During his time at Iowa State, he won the Research Excellence award, and in 2004, he received our Professional Progress in Engineering Award. He also received an Outstanding Faculty Award from UPRM's electrical and computer engineering department for the 2003-2004 academic year, as well as a Distinguished Alumni Award in 2010.
Irizarry-Rivera is a member of IEEE and ASEE, serves as an Advocate for the American Wind Energy Association, and is a registered Professional Engineer in Puerto Rico. He is the author of more than 40 peer-reviewed publications, and serves as an Expert Witness in civil court cases involving electrical hazards and electrocution.
Despite the heavy workload ahead of him, Irizarry-Rivera is excited, and believes his experience as a teacher and as a board member will aid his efforts in the near future.
"It was a difficult election and the job at the Board will be even more difficult, but it will also enrich, in the long run, my research and the experiences I bring into my classroom," Irizarry-Rivera said.