by Thane Himes
Vijay Vittal (PhD EE '82), former distinguished professor of electrical engineering at ECpE, has been named the 2013 recipient of the IEEE Herman Halperin Electric Transmission and Distribution Award.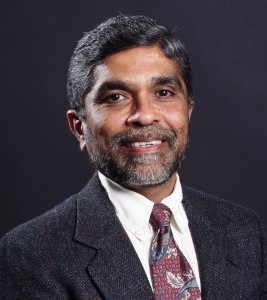 Vittal's work includes a number of projects in several areas, including online dynamic security assessment, the application of a new analytical methods to analyze power system stability (including the method of normal forms), risk-based security assessment, the application of robust control methods to design more effective controls, and the development of a new approach to perform controlled islanding, to name a few.
"The process of coming up with solutions involved a combination of advanced analytical approaches combined with the development of efficient numerical tools," Vittal said.
The Herman Halperin Award is given to individuals or small teams for outstanding contributions to electric transmission and distribution. Award candidates are considered with an evaluation process that looks at technological importance, successful application, originality, leadership, publications, and the quality of the nomination.
"I am humbled by this recognition and acknowledge the contributions of all my past graduate students and colleagues who collaborated in the body of work that was recognized," Vittal said.
Vittal earned his Ph.D. in electrical engineering at Iowa State in 1982 and was brought on as an Assistant Professor shortly thereafter. Vittal remained at Iowa State for 23 years, attaining the title of Anson Marston Distinguished Professor in 2004, before accepting the Ira A. Fulton Chair Professorship in Electrical, Computer and Energy Engineering at Arizona State in 2005. He is the Director of the Power Systems Engineering Research Center and a member of the National Academy of Engineering
Vittal's research at Iowa State began with an online dynamic security assessment project, a sustained effort supported by the Electric Power Research Institute (EPRI). The project involved the first demonstration of Vittal's analytical method at the control center of Northern States Power Co. (now known as Xcel Energy) in Minneapolis. Vittal says he is grateful for the valuable experience he gained from his time in Ames.
"I was very fortunate to have excellent mentors at ISU when I started my career," Vittal said. "Among them, Aziz Fouad, Tony Michel, and Grover Brown greatly influenced my approach to problems and in developing the ability to be persistent while tackling challenges."
Vittal also collaborated on several projects with current ECpE faculty members, including Jim McCalley, Venkataramana Ajjarapu, and Manimaran Govindarasu.