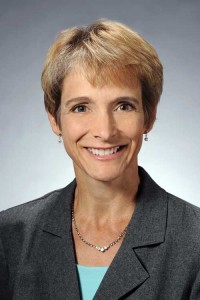 Iowa State University's College of Engineering has named Kristen Constant chair of its materials science and engineering program. Her appointment will begin July 1, 2012.
Constant was identified through an internal search to replace Richard LeSar, chair since 2006, who is stepping down to devote more time to his research activities.
Constant, a native of Osceola, Iowa, received her bachelor's degree in ceramic engineering from Iowa State in 1986. She holds a doctorate from Northwestern University, and completed a post-doctoral fellowship at the Massachusetts Institute of Technology. Constant also served as a laboratory graduate at the Argonne National Laboratory in Illinois.
"Kristen has a proven track record of leadership in the engineering college and across our entire campus. She's widely respected for the quality of her teaching and her research program," said Dean Jonathan Wickert. "I am looking forward to her ideas and vision for advancing our materials science and engineering department to the next level."
Constant joined the Iowa State faculty in 1992 and was promoted to full professor in 2011. She is also an associate scientist at the Department of Energy's Ames Laboratory.
She is an author of more than 40 peer-reviewed publications, has delivered numerous presentations, and holds three patents. Constant's research efforts are focused in the area of photonic materials fabrication – finding more effective and efficient ways to create novel crystal nanostructures for optical and energy applications.
"Materials engineering is a fast growing field, both at Iowa State and around the world," Constant notes. "I am humbled to be selected to lead our talented collection of faculty, students and staff, and look forward to working closely with our alumni and research partners."
Materials engineers study the relationship between the properties of materials and their internal structure, and work to improve the products we use every day. Commonly studied materials include polymers, ceramics, electronics and metals. Iowa State's materials science program is also closely aligned with the U.S. Department of Energy's Ames Laboratory.