A collaborative project between Iowa State University and the University of Iowa has received a grant for $290,000 from the Musculoskeletal Transplant Foundation (MTF). Matt Frank, associate professor of industrial and manufacturing systems engineering at Iowa State University, and Thomas Brown, Richard and Janice Johnston Chair of Orthopaedic Biomechanics and professor of biomedical engineering at the University of Iowa, are working to move bone implant fabrication from a one-size-fits-all approach to a totally customizable, automated solution.
The project "Automated shape-matching of custom bone allograft implants," will develop rapid manufacturing methods to create custom bone implants from donated human bones. The implants would be developed for individuals who have suffered a traumatic injury to, or loss of, their bone, such as a soldier who encountered an improvised explosive device or a patient with bone cancer.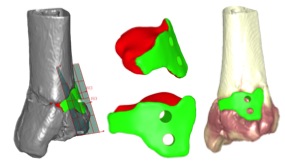 Frank is applying the same technology to make the bone implants that he uses to create unique parts for agricultural equipment or military systems that are no longer mass produced. To develop those parts, he develops and implements sets of computer algorithms that analyze a CAD model. The processing data is then sent to a rapid manufacturing machine, and the part is cut from stock material, such as bars of aluminum or steel.
"The challenge we face when applying this method to bone is that the material is amorphous. It's not the same through and through like a piece of steel," Frank explained. "Every bone is unique, and we are working with two completely distinct geometries, one from the patient's bone implant and one from the donated bone."
But the uniqueness of the material is part of why rapid manufacturing technology has such potential. For an implant to be made manually, a surgeon would have to cut, carve, and reshape the bone by hand—a process that takes time and is costly. The other option is to place a standard sized implant into a void that has been reshaped to fit the implant. Rapid manufacturing the implant would allow a more perfect match to be created more quickly and more accurately.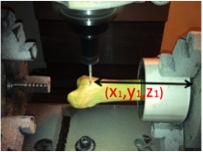 The researchers are currently developing harvesting algorithms that would take into account the different distributions of materials in a bone and the unique geometry of the desired implant. They also have to consider the best location from which to remove the implant so the materials of the implant line up correctly to the patient's bone.
Frank and Brown have support from MTF for three years, by which time the algorithms they create could be implemented at MTF's manufacturing sites, where they typically create standard, one-size-fits-all bone implants. "Once we have this down, unique, individual implants can be made at the touch of a button," Frank added.
Frank and Brown also received the James Russell Neff award from MTF, which is given to the top proposed project each year and reflects the excellence and promise of the project.