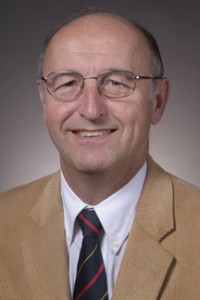 David Jiles, distinguished professor and Palmer endowed chair of electrical and computer engineering, traveled to Chennai, India, to receive recognition as the 2011 elected Honorary Fellow of the Indian Society for Non-Destructive Testing (ISNT).
Jiles was elected for his work on magnetic methods for non-destructive evaluation (NDE). Over the last ten years, he has collaborated on research projects with NDE professionals in India including Dr. Amitava Mitra of the National Metallurgical Laboratory in Jamshedpur; Dr. Anil Prabhakar, professor at the Indian Institute of Technology in Chennai; and Dr. T. Jayakumar of the Indira Gandhi Center for Atomic Research (IGCAR) at Kalpakkam.
Lead by Baldev Raj, former director of IGCAR and Advisor to the Prime Minister of India, ISNT is an international organization geared toward coordinating and informing professionals in NDE. As this year's elected Honorary Fellow, Jiles will be attending regular ISNT meetings to collaborate with NDE experts in India.
"It was a great pleasure to go to Chennai to receive this recognition from ISNT," Jiles said. "It was also a rather humbling experience," he added when referring to taking his place as the next in a long line of distinguished ISNT Honorary Fellows.