Based on their excellent contributions to electrical and computer engineering research, two Iowa State Electrical and Computer Engineering (ECpE) professors have been named 2012 Fellows of the Institute of Electrical and Electronics Engineers (IEEE).
Chris Chu, associate professor, and Ahmed Kamal, professor, officially join the ranks of the distinguished IEEE Fellows in January 2012.
The IEEE Fellow Program, established in 1912, recognizes members who have remarkable accomplishments in IEEE fields throughout their careers. Each year the total number of Fellows selected does not exceed one-tenth of one percent of membership.
Chu's innovative algorithms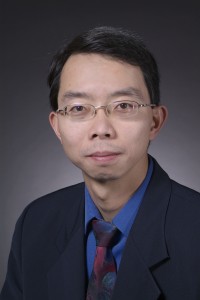 Chu was selected for his "contributions to physical design of integrated circuits." He has developed two notable algorithms, along with other contributions in the physical design field, that have lead to design circuits with better performance, lower costs, and lower energy consumption.
One of his research areas includes very-large scale integration (VLSI) placement, which involves determining the locations of millions of modules in an integrated circuit.  Through years of research, Chu created the algorithm "FastPlace" that has significantly reduced the time it takes for a computer to place modules on an integrated circuit. In fact the time reduction FastPlace offered was so astonishing, the technical program committee for the Association for Computing Machinery (ACM) International Symposium on Physical Design in 2004 almost rejected his paper submission thinking that such remarkable improvements were impossible.
After using Chu's program to verify the information, the paper was accepted and received the best paper award at the conference. His algorithm is being used today for placement of many modern integrated circuits and has even been implemented by companies such as IBM and Xilinx.
Chu has also conducted various research projects on routing to find the best paths for connecting modules. "FLUTE" is an algorithm Chu devised for rectilinear Steiner minimal tree (RSMT) construction, a process in VLSI design that can be used to estimate wire load, routing congestion, interconnect delay, and the routing topology of each net.
Chu's algorithm for RSMT construction  provides a more efficient way of routing between circuit modules on an integrated circuit. His method is based on pre-computing and storing RSMT solutions in a lookup table. The striking improvement FLUTE has provided in terms of solution quality and runtime over other RSMT algorithms has led ten companies, including Intel, IBM, and Magma, to adopt or show significant interest in adopting FLUTE as a part of their design tools.
In addition to research in VLSI, Chu also teaches courses on VLSI design and -algorithms in computer engineering at Iowa State. Chu has also been on a number of technical program committees for various IEEE conferences, including the IEEE/ACM Design Automation Conference in 2010, and as the chair of routing and detailed physical design area for the IEEE/ACM International Conference on Computer-Aided Design in 2010.
He has received several awards and honors for his research and papers. In 2008, he received the Young Engineering Faculty Research Award from Iowa State. In that same year, he received an IBM Faculty Award, which he was selected to receive again in 2009 and 2010.
In addition to his best paper award for his publication about FastPlace, Chu has also received two other best paper awards for "A Quadratic Programming Approach to Simultaneous Buffer Insertion/Sizing and Wire Sizing" in 1999 and "FLUTE: Fast Lookup Table Based Rectilinear Steiner Minimal Tree Algorithm for VLSI Design" in 2010.
Kamal's networking advancements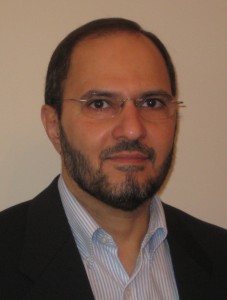 Kamal was selected as a 2012 IEEE Fellow for "contributions to optical networks provisioning for multipoint traffic."
"My research in optical networks concentrates on network planning, and operation, in order to accommodate the maximum number of connections between communicating parties, while guaranteeing connection requirements such as bandwidth," explained Kamal. He has spent the last 15 years focused on provisioning multi-point connections, such as TV broadcasting and e-Science applications, in optical networks so that the cost of provisioning these connections is minimal, users are satisfied with the quality of service, and that the network can operate in a non-stop fashion, even in the presence of equipment failures. Kamal has received a U.S. patent for some of his methods.
He has also studied wireless sensor networks.  More recently, he has started to examine cognitive radio networks, dealing primarily with competition for wireless bandwidth, for example, in Wi-Fi connections. Bandwidth can often be difficult to obtain from the original source in cognitive radio networks, but unused licensed bandwidth from places such as idle TV channels or idle wireless microphones may be able to be allocated to different devices.
"I am currently trying to come up with algorithms and techniques to make efficient use of all the available bandwidth," Kamal explained. "The first step is determining when and how to detect available bandwidth, and then to develop efficient ways to share that bandwidth."  His research in cognitive radio networks also concentrates on multi-point connections.
Kamal also founded the Laboratory for Advanced Networks (LAN) at Iowa State in order to further his research in both optical and wireless networks.
Outside of research, Kamal teaches several computer networking and digital logic design courses, both at the undergraduate and graduate levels, and dedicates his time to PhD students. Additionally, he makes it a priority to volunteer for IEEE. His involvement with the organization began early in the 1980's as a graduate student assisting with paper reviews for journals and upcoming conferences. From there, he got involved in organizing IEEE conferences and has served as a conference chair for a number of conferences, as well as serving as an editor for IEEE and other leading journals in electrical and computer engineering.
Kamal is also currently a program evaluator for the Accreditation Board for Engineering and Technology, Inc. (ABET), which accredits college degree programs in engineering, computing, technology, and applied sciences. Kamal hopes to continue volunteering for programs like this within IEEE to give back to an organization he has been a part of for about 30 years.
The dedication these Iowa State professors have shown to advancing their fields led to their selection as 2012 IEEE Fellows, and both Chu and Kamal are equally honored for being chosen for such an outstanding recognition.