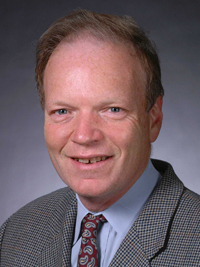 Chemical engineering Professor Kurt Hebert has been published, again, in Nature Materials, one of the world's leading physical science journals.
Hebert's article titled "Morphological instability leading to formation of porous anodic oxide films," is based on his research with electrochemical oxidation of metals such as aluminum and titanium to form surface oxide films. These films contain large numbers of microscopic pores arranged in a uniquely regular pattern.  The films can be manipulated to serve applications such as solar cells, in which they allow efficient capture of photons for more effective solar energy production.
In the article, Hebert describes the formation of aluminum oxide and titanium oxide films at the microscopic level. Hebert explores the growth of porous metal oxide films by mathematical modeling and experimental approaches. In his paper he states that his experiments are the "first successful effort to quantitatively relate oxide dissolution to nanoporous film formation."
Here is an abstract of Hebert's paper published online by Nature Materials. Hebert's collaborators on this project were Sergiu P. Albu, Indhumati Paramasivam and Patrik Schmuki – all from the Department of Materials Science at the University of Erlangen-Nuremberg (Erlangen, Germany).
In 2010 Nature Materials ranked as the top journal in the world in terms of impact factor for the areas of physical chemistry, applied physics and condensed matter physics, and was the second leading journal in materials science.  Nature Materials received the top impact factor of 29.9, according to the Thomson Reuters' 2010 Journal Citation Review Science Edition. Impact factor is a widely used quantitative measure of the journal's quality. The journal's impact factor of 29.9 means that each of the articles that got published in 2008 and 2009 were cited an average of about 30 times.
Hebert's first paper in Nature Materials, "The role of viscous flow of oxide in the growth of self-ordered porous anodic films," was published in April 2009 and co-written by then-CBE Ph.D. candidate Jerrod Houser. That paper has been cited 43 times since its publication.
Hebert served as interim department chair of chemical and biological engineering in 2004, associate chair of CBE from 2006 to 2010, and has taught at Iowa State since 1985. From 2006 to 2009 he was the North American regional editor for the Journal of Applied Electrochemistry.