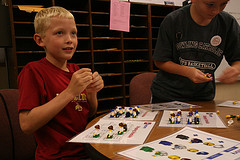 Combining computers, LEGOS, and ice cream might sound like the recipe of a lazy summer afternoon, but the 8-14 year olds at STEM Camp on August 4-5 weren't lounging around. They spent two days of their precious summer vacation on Iowa State's campus learning about the wonders of engineering.
STEM Camp participants learned about cyber security; transformational geometry; business and manufacturing; robotics; liquid nitrogen; and more. Activities ranged from computer programs to LEGO assembly lines to making homemade ice cream.
While the campers were learning important engineering concepts throughout every presentation, the fun of STEM Camp is best summed up in the words and actions of its participants. Their hands shot to the ceiling hoping they would be chosen to volunteer for a demonstration. Their eyes lit up when they got to add ingredients to the homemade ice cream. They asked the undergraduate volunteers what chemicals they have access to and if nuclear bombs were really developed at Iowa State. And, perhaps most telling of all, were the statements declaring the camp would only be better if it lasted a whole week.