Introducing engineering students to a less traditional career path, Iowa State's program in technical sales quickly evolved from the industrial engineering department having two courses in the subject to an increasingly popular minor and strong student organization.
The program in technical sales offers engineering students the opportunity to learn about sales techniques and strategies, as well as concepts such as market analysis, technical product pricing, persuasive communication, and new technology introduction as they relate to engineering.
The minor consists of five courses. Three of these courses are in industrial engineering—engineering economics, technical sales 1 (technical selling), and technical sales 2 (sales management). The remaining two courses are offered by the College of Business—personal selling and marketing.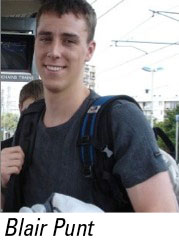 In addition to an understanding of the sales engineering profession, Blair Punt, senior in industrial engineering and vice president of the Sales Engineering Club (SEC), says involvement in the program has given him a great opportunity to network with potential employers on several different occasions. "Our instructor often invited sales engineers from industry to share during classes," Punt said. SEC also offers networking and professional development opportunities that connect students with sales engineers.
This strong relationship with industry has been present in the program from the very beginning. With a donation from Trane, a leading global provider of indoor comfort systems and solutions and a brand of Ingersoll Rand, the College of Engineering was able to conduct preliminary research necessary to get things for the program off the ground.
"Partnering with industry early in the process gave us a great deal of insight that came directly from organizations that hire our students for careers that include technical sales and marketing," said Dave Sly, instructor of the technical sales courses. The program continues to maintain and develop such partnerships to increase value for students.
Additionally, those in the program also appreciate the broad applicability of the coursework, noting that all engineers can benefit from the lessons. "Even if someone is planning to go into a more traditional engineering role, these classes show how to effectively sell yourself and your ideas," he said. "It will also give students an appreciation for all of the work that goes into selling the products engineers traditionally create."
Punt will be starting a full-time position with Ingersoll Rand in their Sales Development Program this summer and is looking forward to the opportunity to learn about selling the company's industrial products, as well as the opportunity for travel the position provides. "Early on in the coursework I learned to view sales people as similar to consultants," he said. "They work with customers on very technical projects to really help them get a product that will benefit them. It's going to be great to be in that role with this company."
Iowa State's technical sales program won the 2010 Institute of Industrial Engineers Innovations in Curriculum Competition award. The award highlights outstanding innovation in the design or presentation of an accredited industrial engineering, industrial and systems engineering, industrial engineering and operations research, or similar engineering curriculum, or in a course that is part of an accredited curriculum. It recognizes faculty members who demonstrate outstanding creativity in instructional approaches or curriculum organization, design, or content, and who provide evidence of the effectiveness of their innovation. A follow-up paper is now in process for submission to the American Society for Engineering Education.
"We're excited this program is getting recognition at a national level," said Sly. "We have had a lot of success so far and want to continue to build our program to meet the needs of industry and interest of our students."