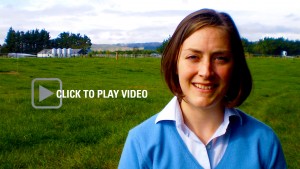 They are the best of the best — the next generation of engineers whose innovation, leadership skills, and commitment to excellence are helping to better our world and inspire young people to consider a career in engineering. Among them is Laura Christianson, a graduate student in Iowa State's agricultural and biosystems engineering program.
Christianson is among 14 engineers who were selected as one of this year's New Faces of Engineering by the National Engineers Week Foundation. She studies how to mitigate water pollution through natural process and was nominated for the award by the American Society of Agricultural and Biological Engineers.
The National Engineers Week Foundation is a coalition of engineering societies, major corporations, and government agencies, and it asks its members to nominate colleagues 30 years old and younger for consideration as one of the New Faces of Engineering. The work of the 2011 class reflects many of the most pressing issues that engineers are endeavoring to solve on a global scale, including energy resources, infrastructure renewal, technological advancement, and national security.
The announcement of this year's New Faces of Engineering class of 2011 coincides with the launch of Engineers Week, which takes place February 20-26.  Later in 2011, National Engineers Week Foundation will announce the launch of a new student initiative, New Faces of Engineering: College Edition.