The Iowa State Tau Beta Pi (TBP) Chapter won the bid to host the 2013 National TBP Convention on October 3-5, 2013. Their proposal was reviewed by a committee of TBP members and accepted at the recent 2010 convention in Pennsylvania.
Adam Christiansen, president of Iowa State's TBP, presented the bid to the national committee and was gratified when Iowa State was chosen.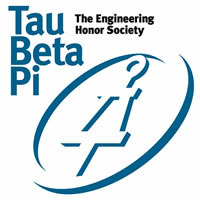 "Knowing that all the hard work that went into preparing the bid had paid off was a great feeling. It was exciting to know that we succeeded in bringing a huge engineering event to Iowa State's campus," Christiansen said.
Although the convention won't be held until 2013 and members such as Christiansen will be gone, TBP will look to add 30 to 40 new members each semester.
"It's weird knowing that when 2013 rolls around most of our current members will no longer be here, but I'm confident that our future members will put in the hard work required to host the convention and make it a big success," Christiansen said.
LeAnn Faidley, chief advisor to TBP and assistant professor in mechanical engineering, and LeVern Faidley, Iowa State alum and TBP advisor, were the main forces behind putting the convention bid together.
Iowa State's proposal outlined some events for the convention including four award banquet speakers. The speakers will host and present various awards including best chapter, project, and distinguished alumnus and mentor awards.
Other events planned for the convention include a career fair and tours of various engineering departments and laboratories unique to the university. Iowa State has planned a picnic featuring local food for the convention's lunch.
The convention hopes to bring almost 500 people to Ames, including representatives from each chapter and various faculty advisors. Most of Iowa State's TBP chapter will volunteer at the event.
Chapters are chosen to host the convention based on their bid, but also on the quality of the individual chapter. Iowa State's chapter focuses on community outreach and professional development.
TBP hosts various events for local schools including a high school catapult content. The high school students build trebuchets and launch eggs during VEISHEA. For middle school students, TBP hosts a roller coaster contest that has students build miniature roller coasters using magnets.
TBP also hosts events such as "Building the Future," which invites around 100 students to come to Iowa State to explore various engineering activities and problems. The chapter is also active with "Adopt a Highway" and started an annual 5K run for charity.
Iowa State is one of 236 active chapters in the United States and Puerto Rico. There are currently over 180 active members in Iowa State's engineering honors program. Many Tau Beta Pi alums become prominent figures throughout the engineering field. All 12 of the College of Engineering's deans have been Tau Beta Pi members.
To be eligible for TBP, undergraduate engineering students must be in the top one-eighth of their class as juniors and top one-fifth as seniors. Each initiate has to participate in at least one of the chapter's community service and outreach projects, attend committee meetings, and participate in a small-group activity.
This will be the fifth time Iowa State has hosted the TBP convention, the most recent being in 1988.