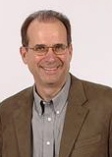 In an Iowa State Daily article that discusses the possibility of a new DuPont and Danisco cellulosic ethanol plant in Iowa, Robert Brown explains the difference in ethanol production processes.
"What we call corn ethanol is produced from the corn grain, which is a starch material," Brown said. "That is how we currently produce it today.
"What you're seeing is these new plants that are going in are going to be what we call cellulosic ethanol, and those are produced from any kind of fibrous biomass."
Brown – an Anson Marston Distinguished Professor in Engineering, the Gary and Donna Hoover Chair in Mechanical Engineering, and the Iowa Farm Bureau director of the Bioeconomy Institute – also noted a lack of correlation between the price of food and production of ethanol, stressing there shouldn't be much concern around the debate of using the land for food or ethanol production.