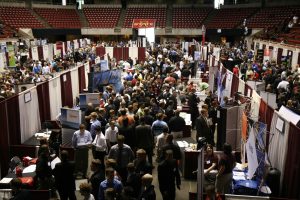 After being relocated last fall due to the flooding that struck Ames, the College of Engineering's Career Fair will return to Hilton Coliseum this spring. The event will be held Tuesday, February 8, from noon to 6:00 p.m.
To help students prepare for the fair, engineering career services has coordinated educational seminars on Sunday, February 6, from noon to 4:00 p.m. in Hoover Hall Atrium and an employer panel Monday, February 7, from 5 to 6:00 p.m. at a location yet to be determined.
A new component to the educational seminars will be a networking event where students can interact with employers. "Adding a social component will help students build a personal connection with employers," said Priya Desai, junior in chemical engineering and co-chair of the engineering career fair. "They can ask questions about the company and any employment opportunities, and get ideas on how to best present their skills and experience on their résumé and in interviews."
This year, students can access the newly developed career fair blog, which is a cooperative venture between the Colleges of Business and Engineering, to learn about how to make the most of the career fair from experienced students. "There are a variety of resources available like networking tips and a basic introduction to the engineering career management system," Desai said. "Students can use the blog as a way to learn as well as double check everything they have prepared for the career fair."
There are expected to be more than 150 companies at the spring career fair offering engineering students internships, co-ops, and full-time career opportunities.