Growing up, Efraín Rodríguez-Ocasio did not foresee himself pursuing a Ph.D. in chemical engineering in a state he thought of as the "corn place."
"I grew up in the rural mountain town of Utuado, Puerto Rico, and as a child, I didn't get much exposure to people in STEM or even people going to university. So even though I always loved science, the idea of getting a doctorate did not occur to me, much less coming to Iowa to study," said Rodríguez-Ocasio.
But after discovering the opportunity to work with Laura Jarboe, Cargill Professor of Chemical Engineering, Rodríguez-Ocasio has found Iowa State fertile ground to grow a career in bioconversion of plastics.
Pursuing graduate school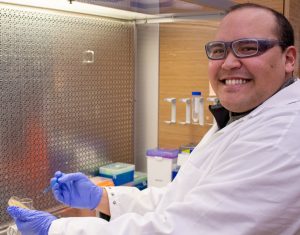 Rodríguez-Ocasio's passion for science and supportive community helped him get into the Residential Center of Educative Opportunities of Mayagüez, a top-ranking school specializing in sciences and math.
"It opened up a lot of doors for me. I went from having no opportunities to having more than I could imagine, so I did absolutely everything I could. Before I graduated, I had two internships with the National Institute of Health, participated in a one-year National Aeronautics and Space Administration academy and won an international science fair," said Rodríguez-Ocasio.
Even with this experience, Rodríguez-Ocasio did not consider graduate school as part of his future.
"Getting a degree to get another degree was not something I thought of as an option. In my mind, you went to college to get a bachelor's so that you could get a job," said Rodríguez-Ocasio.
When working on a bachelor's degree in industrial biotechnology at the University of Puerto Rico, Mayagüez Campus, Rodríguez-Ocasio noticed something while doing multiple internships that changed his mind.
"I got to see the career side of things and understand how research could be an actual job. And it made me notice that all the people doing the type of work I wanted to do had a Ph.D. That's when I started thinking about grad school," said Rodríguez-Ocasio.
To bolster his graduate school application with lab experience, Rodríguez-Ocasio started searching for summer research opportunities. An interest in sustainability drew him to Iowa State University's Center for Biorenewable Chemicals (CBiRC), which aims to help create a future where biomass is used to create biobased products that are healthier, sustainable and more effective alternatives to petrochemical products.
"I was really interested in the work being done at the CBiRC. I loved it so much that I immediately applied. I didn't even look to see where it was. And then, months later, I get an email saying I'm in, and we're booking your flight to Iowa. And I was like, 'What? What do you mean, Iowa? The corn place?' I started to worry I'd made a mistake," said Rodríguez-Ocasio.
Coming to Iowa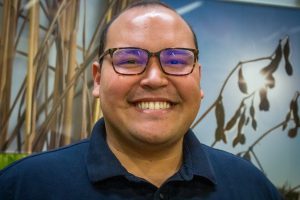 Upon his arrival, Rodríguez-Ocasio began working with the Jarboe research group.
"When I got here, I loved it immediately. I loved the research work. Everyone was supportive, and the Chemical and Biological Engineering department was collaborative and inviting. It was just such an amazing experience," said Rodríguez-Ocasio.
The more time Rodríguez-Ocasio spent on campus, the more he saw Iowa State as a place he wanted to attend.
"I started to feel like I wanted to go to school here, so I started talking to Jarboe and a few other professors about applying here for grad school. And on the last day, I got a provisional acceptance letter. To my surprise, Jarboe had been impressed with my ambition and written a very supportive recommendation letter for me before I applied, and that's how I came to ISU," said Rodríguez-Ocasio.
A blooming research career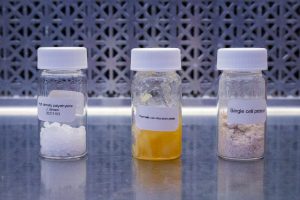 Today as a Ph.D. student in chemical and biological engineering, Rodríguez-Ocasio continues to work with Jarboe and is achieving great success.
"Right now, 70% of all plastic produced ends up in landfills or the environment. I am trying to engineer microorganisms to make new higher-value products from plastic waste converted into fatty compounds. If we can do this, perhaps we can help create a circular economy where plastic waste re-enters the market as new higher-value products," said Rodríguez-Ocasio.
So far, Rodríguez-Ocasio has published two papers in the Journal of Industrial Microbiology and another in Metabolic Engineering.
And he's been recognized with numerous awards, including a Carol D. Litchfield Best Student Oral Presentation Award from the Society for Industrial Microbiology and Biotechnology (SIMB) Annual Meeting, the Best Oral Presentation, Biochemistry Session from theiBio2 Virtual Symposium, a two Minority Affairs Committee Awards for posters he presented at American Institute of Chemical Engineers Annual Meetings, a Diversity Award from SIMB, and a NASA Iowa Space Grant Consortium Graduate Fellowship.
Beyond this, Rodríguez-Ocasio has been appointed to two SIMB Presidential Ad Hoc Committees, the Online Engagement Task Force and the Public Policy and Advocacy Working Group, by the past and current presidents of the SIMB board of directors.
"I am very lucky to have ended up at Iowa State, where I get to work on doing new things with biology that have never been done before," said Rodríguez-Ocasio.