Ames, IA – Guiping Hu, associate professor of industrial and manufacturing systems engineering, has been named a fellow in the fourth cohort of the IAspire Leadership Academy, a leadership program aimed at helping STEM faculty from underrepresented backgrounds ascend to leadership roles at colleges and universities. The academy is part of the Aspire Alliance's Institutional Change Initiative, which the Association of Public and Land-grant Universities (APLU) and the University of Georgia lead.
"Getting nominated and selected to join the IAspire Leadership Academy means a lot to me personally and professionally," said Hu. "It reinforces my interests and confidence in academic leadership. My goal is to make an impact during a transformative era of higher education. I hope to learn more about the university operations, organizational agility, and leadership styles. Core competencies, such as managing conflicts, fostering collaboration, leading changes, communicating effectively, and advocating for diversity and inclusion will be developed as part of the IAspire Leadership Academy."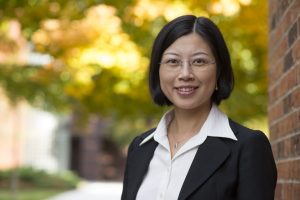 The academy is one pillar of diversity and inclusion work underway through the NSF INCLUDES Aspire Alliance. The National Science Foundation-backed alliance is working across post-secondary institutions to develop more inclusive institutional cultures to create a more inclusive and diverse STEM professoriate.
"With many pressing challenges facing universities across the country, we're grateful to see so many institutions supporting the participation of emerging STEM leaders from underrepresented groups in the fourth cohort of the IAspire Leadership Academy," said Howard Gobstein, Director of the NSF INCLUDES Aspire Alliance and Senior Vice President at the Association of Public and Land-grant Universities (APLU). "The IAspire fellows are extraordinarily talented and we're excited to see the promise that can be realized by supporting and unleashing their potential."
Guiping Hu is one of 18 participating faculty and administrators who were selected through a competitive, holistic review of their applications. Working in small groups in monthly meetings combined with three week-long immersive sessions, the fellows will learn effective executive leadership skills for increasingly complex higher education environments as well as strategies for influencing institutional transformation in their current and future leadership positions.
Learn more about the IAspire Leadership Academy on the Aspire Alliance IAspire Leadership Academy site.