With a passion for research in several facets of construction engineering, assistant professor Yunjeong "Leah" Mo joined the Iowa State University Department of Civil, Construction and Environmental Engineering (CCEE) this fall.
In Mo's past work, she has not only been working to broaden students' perspectives in construction engineering, but she has worked on several government-funded research projects and is bringing that research mindset to the department. Before joining ISU, Mo worked as an assistant professor at the University of North Florida for three years, and has taught courses such as Building Information Modeling, Intro to Construction Computing, Green Construction, and Safety.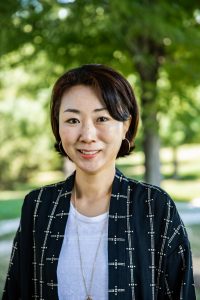 Mo's core research area includes Humans in Built Environments, AEC Work Process Automation, Construction Safety, and Diverse Occupants, and is expanding to Digital Twin-Based Building Management Systems, and Emerging Technologies for AEC Courses by incorporating machine learning (ML), building information modeling (BIM), Virtual Reality (VR), Augmented Reality (AR), and more. Mo's plethora of research topics are perfect for her career here in CCEE, she says.
"CCEE at ISU is an excellent program having various focus groups, which is an ideal environment for teaming up for research projects and sharing knowledge," Mo said. "Since our colleagues in different focus groups are well mingled next door together, I can learn new areas and grow more while collaborating with them."
Combining teaching and research, Mo is ready to bring her dual passions to students and colleagues in CCEE.
"I'm excited to start my new journey at ISU," Mo said. "Hope I can be a professor who can inspire students' learning motivation and a colleague to pleasantly collaborate with."