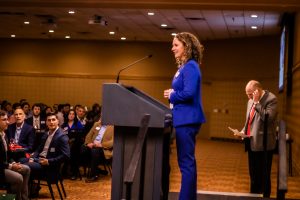 With a plethora of engineering expertise and impact, alumni from Iowa State's Department of Civil, Construction and Environmental Engineering (CCEE) are being recognized at the 2022 Civil and Environmental Engineering Awards Banquet this September. These alumni are renowned for their high professional achievements, service to the profession, community and/or the department and a high degree of character and integrity.
There are two different recognitions: Hall of Fame and Distinguished Alumni. The Hall of Fame is a lifetime professional and service achievement award, while the Distinguished Alumni is for alumni who have significant professional achievement and service. Beth Duyvejonck and Jeff Smith were honored at the Construction Engineering Awards Banquet in April 2022. This September, the other eleven awardees are being honored at the Civil and Environmental Engineering Awards Banquet.
The 2022 inductees have made extensive impacts on the industry, including national and international leaders in public health, water/wastewater treatment, construction, geotechnical, structural design, construction materials, management and education. They are pioneers in their fields, changing the way our civil, construction and environmental engineering work is done in the United States and around the world.
2022 Hall of Fame inductees:
2022 Distinguished Alumni inductees:
Read the full description of each awardee and past inductees here. Join us in honoring these outstanding CCEE alums at the banquet on September 15 here.