Food waste is an issue that impacts farmers and communities around the world. As new technology develops and machines gathering crops begin to span larger areas, passing over produce that is rooted deep into the ground or smaller in size can become easier to miss.
Iowa State University's Department of Agricultural and Biosystems Engineering received a $300,000, two year grant from the Walmart Foundation, through professors Dirk Maier and Lie Tang. Using drone technology, Maier, Tang and their graduate students are working to prevent food waste by flying the drone over harvested fields and finding crops that are left behind.
"Some produce gets left behind in the field due to the way the harvesting takes place," Maier said. "A lot of it is large scale machinery operating in the field."
Maier and Tang are currently studying the amount of sweet potatoes left after harvest with independent researcher Lisa Johnson and collaborators from GeoVisual Analytics on fields in North Carolina. This drone technology approach avoids sending people into the field to pick up the missed crops, which can be very labor intensive.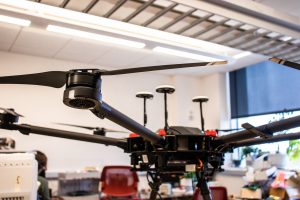 "This project resulted from the idea that there are a lot of perishable crops, vegetables of all kinds that are grown in the United States, and there is a substantial amount of those that are left behind in the field or lost as a result of the supply chain quality checks, spoilage, lack of cooling and so forth," Maier said. "As our resources are getting more expensive and valuable, you like to get as close to 100% off the field as you can. Utilizing what is otherwise left behind reduces food waste in general, reduces our carbon footprint and can help lower costs."
Using drone technology, the team can differentiate between color, shape and moisture content from the soil and crop residue quickly and efficiently. Because sweet potatoes have different values depending on these characteristics and end use, the team can then calculate a total value of the ones left behind.
"With drone technology, we can categorize the sweet potato into color, shape and size, and by doing that we can give feedback to the farmers on the total value of sweet potatoes left in the field within less than 24 hours," Maier said.
As this project continues, the team will be able to determine how worthwhile it can be to venture back out to fields and collect the produce that has been left behind. The future of this concept is constantly growing – with the potential to conduct this research with any perishable produce.
"Once we can do this with sweet potatoes, there is no reason we can't do it with other perishable foods, like tomatoes, lettuce heads, and other high value crops," Maier said.