Charles (Chuck) Jahren, professor in the ISU Department of Civil, Construction and Environmental Engineering, is retiring this year from the department – but his career and memories here are far from leaving CCEE.
Jahren is finishing out 29 years in the department, from 1993 to 2022. Before being a part of CCEE, Jahren was a professor at the University of Washington with a doctorate degree from Purdue University in civil engineering with a specialization in construction.
Construction has been a passion of Jahren's for a long time, logging all the way back to his undergraduate experience, where he studied civil engineering and worked for a construction company following the degree. Upon getting his construction job, he decided he wanted to dive deeper into the academic world – taking a leave of absence every winter to take master of business administration classes, he recalled.
When the recession of 1980 hit, Jahren's path in construction was interrupted. He got laid off from his construction job, but in the meantime, he began applying to doctorate programs in his field. In that transition time of his life, Jahren received an offer from Purdue, studying marine construction.
After graduating from Purdue, Jahren passed by Iowa State, and applied to the program, but declined its offer.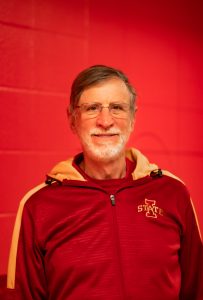 "After I got done with Purdue, I interviewed at many places, including ISU, but we weren't quite ready to settle down yet and my dissertation was on marine construction, so we went to the University of Washington where there are many bodies of water, instead," Jahren said.
At the University of Washington, Jahren did research on car ferry landings and taught a class on construction process design – and still teaches that same subject here at Iowa State, over 30 years later.
"I always enjoyed teaching the construction process design class," Jahren said. "I was teaching things from my dissertation and marine construction, and that was cool."
Throughout Jahren's time at ISU, he applied hands-on learning to his teaching style, allowing students to experience the lessons he taught.
"In one of my classes, the construction equipment class, there was a time when we would work with an equipment dealership in Ankeny, and they would let our students come down and actually operate construction equipment, and they would use backhoes and other equipment as practice," Jahren said.
Jahren also taught many other classes, including learning communities and a class where students could publicly submit mock bids to the Iowa DOT and have them compared to contractor bids.
Along with teaching several classes, Jahren conducted research and worked with over 50 master's students. From freshman undergraduate to doctorate, working with students was a large part of his position. And Jahren recalls that working with students may be his favorite part of his time at the university.
"I love working with the students here, and working with all of the different degrees and levels they are at, because they are all different in their own way," Jahren said.
When Jahren arrived at Iowa State, he immediately sensed a strong link between the industry and academia, something that isn't standard at all colleges.
"It is amazing how well CCEE integrates the industry into the department," Jahren said. "Shortly after arriving here, I just about personally knew every construction company president in Iowa, so getting the opportunity to know people in the industry as an academic professional was a really positive thing for me, and I could implement what I learned from industry people in my classes."
After retirement, Jahren's professional career isn't coming to an end; he has many connections worldwide and hopes to someday have some short-term teaching opportunities internationally.
On April 27th, 2022, Jahren is being celebrated at a Retirement Reception in his honor. To attend, contact Alisha Carroll at carrolla@iastate.edu.