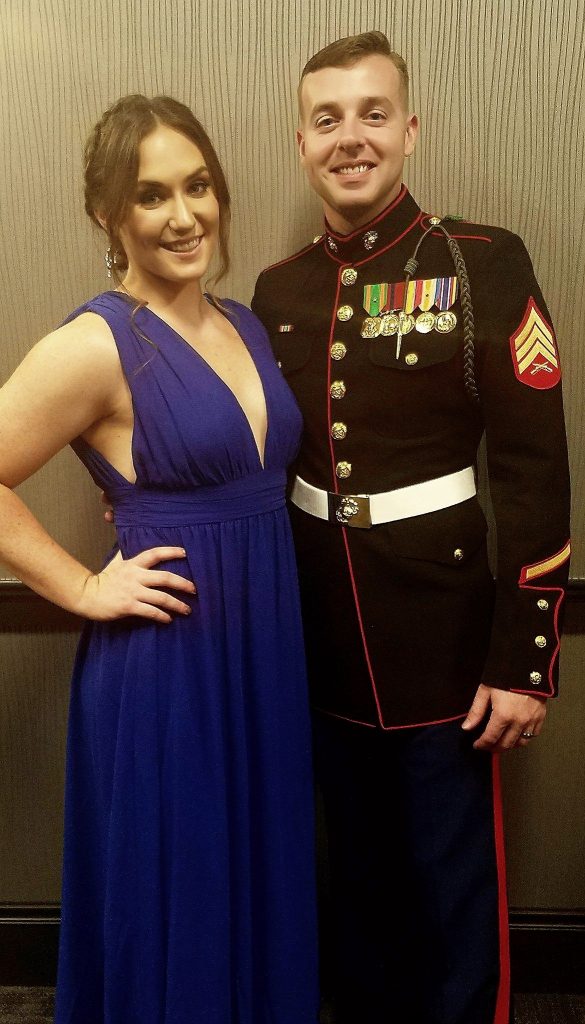 Even in his free time, one Cyclone engineer is constantly approaching things with an engineering mindset.
Tyler Heintz, a junior in mechanical engineering (ME), has been interested in motorsports since he was a kid growing up in Nevada, Iowa. As a student at Nevada High School he took a technical education course with Jim Shelledy, who would go on to be one of his teaching laboratory specialists when he took ME 324L at Iowa State. (Shelledy also taught Heintz's father at Nevada High.) This interest in cars and other things technical led Heintz to pursue his associate of applied science (AAS) degree in tool and die-making from Des Moines Area Community College after high school. He spent a couple years working as a toolmaker in industry prior to serving as a senior intelligence analyst in the U.S. Marine Corps. He was stationed in California, North Carolina and Virginia, prior to being deployed to northern Syria to support the siege of Raqqa from Islamic State group, or IS, control in 2017.
"The Marine Corps has had a significant impact on my life and helped shape my future in many ways," said Heintz. "The leadership, discipline, problem-solving and analytical skills obtained from my time in service have been essential foundations that I lean on heavily in my daily life."
With the support of the GI bill, Heintz returned to his hometown after his service and enrolled at Iowa State University to pursue his B.S. in ME. He felt that a degree in ME was the perfect complement to his tool and die degree, and that it allowed him to further develop his passion for mechanical design and CAD.
"Tool and die has been a crucial foundation for me in my professional development in the engineering industry. It has allowed to me to pair the theoretical concepts covered in mechanical engineering with the practical application experience I've had in the machining industry," he said.
Heintz is currently in his third year of interning with Danfoss in Ames. During his first two years he worked as an industrial engineering intern, which allowed him to further develop his design and CAD skills as he often applied that knowledge to develop new fixtures, tooling and full workstations for assembly lines. Now in this third year, he has transitioned to a product engineer intern role.
In addition to his work in the classroom and at Danfoss, Heintz has taken advantage of the entrepreneurial opportunities available to students. He credits Dave Sly, teaching professor in industrial and manufacturing systems engineering and director of the Start Something College of Engineering, for exposing him to the world of entrepreneurship. With Sly's encouragement, Heintz entered the College of Engineering's pitch competition where he took first place in the existing business category and $500 in prize money. This top placement advanced him to the College by College Pitch-Off Finale, which took place in February, where he won second place in the existing idea category and took home a $2500 prize. Heintz, who founded and operates HeintzMFG, pitched the dual caliper bracket product that he developed.
"The product I developed is a set of brackets that allows for a secondary Nissan caliper to be adapted to a Mazda RX7 for racing and drifting applications," said Heintz. "The second set of calipers are operated from an independent hydraulic handbrake and are used to lock up the rear tires while drifting."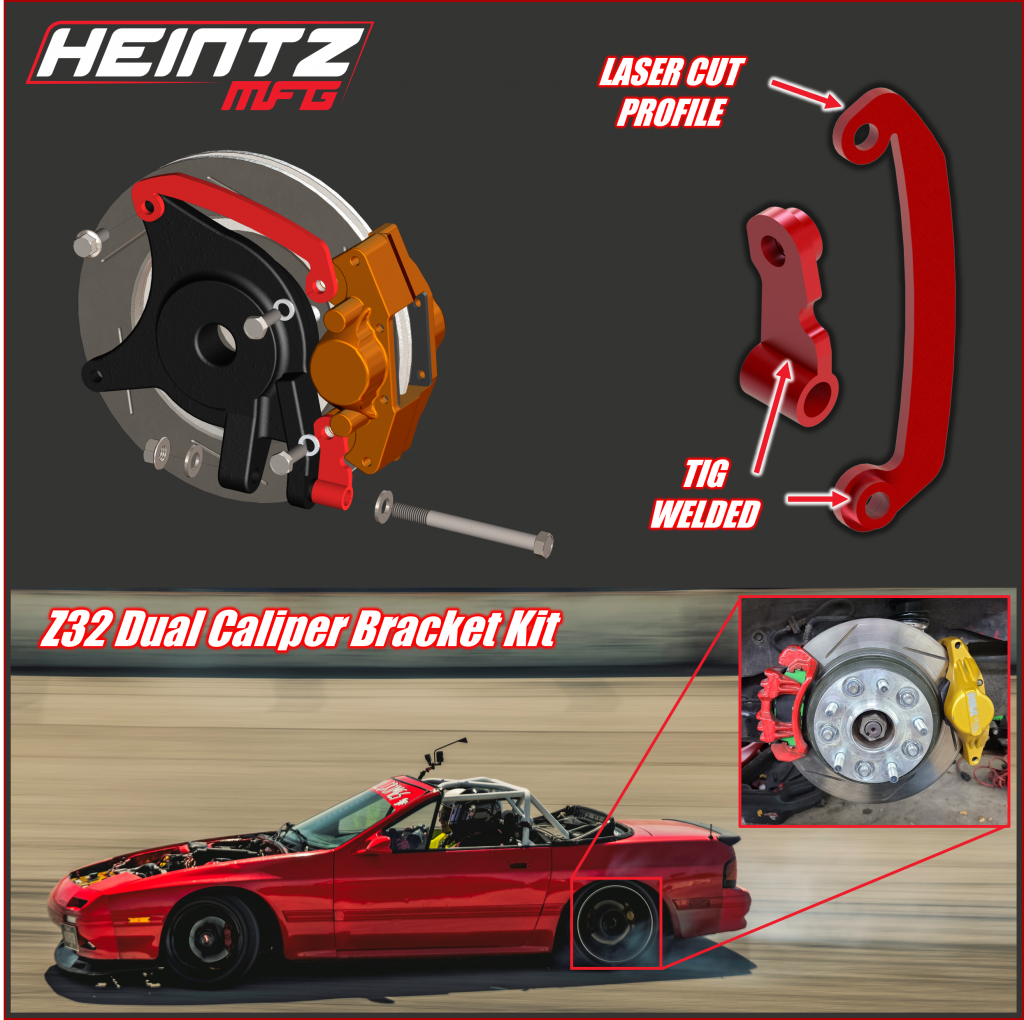 Heintz began developing his product after he noticed through social media that there was no kit on the market that allowed a customer to choose a secondary caliper that could outperform the original equipment manufacturer (OEM) component.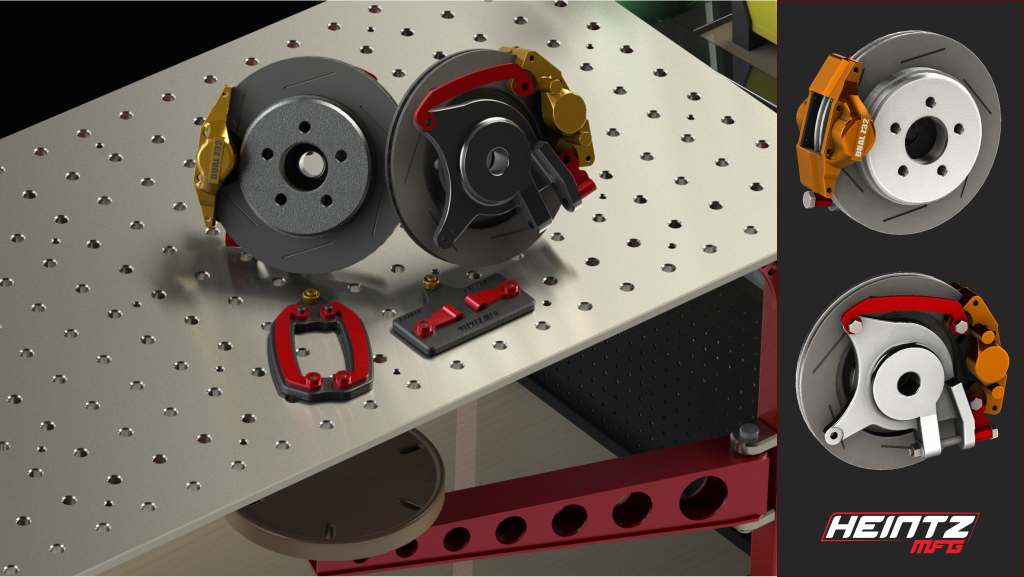 "The caliper I adapted to the RX7 comes from a Nissan 300zx which is a very popular, high performing, and highly available caliper, unlike the factory RX7 caliper," Heintz said.
As part of his process for designing these calipers to fit a stock RX7 knuckle, Heintz used digital calipers and an angle finder to measure each feature of the Z32 caliper and pre-existing Mazda knuckle and rotor. He then took those measurements to develop a CAD model. Once he had a design, he used his Ender 5 3D printer to create a functional prototype out of carbon fiber filament and then made modifications to perfect the fitment. Finally, he used a CNC laser cutting service to cut the 2D profile of the brackets out of hot rolled steel and then tig welded the necessary offset spacers to the final product.
His idea for this product stems from his broader interest in building other car components and drifting those cars. He is currently rebuilding a 2JZ engine capable of 600+ horsepower. Even in his free time hobby he said he is often applying the design, fabrication and machining skills that he has developed through the ME curriculum and his industry experience.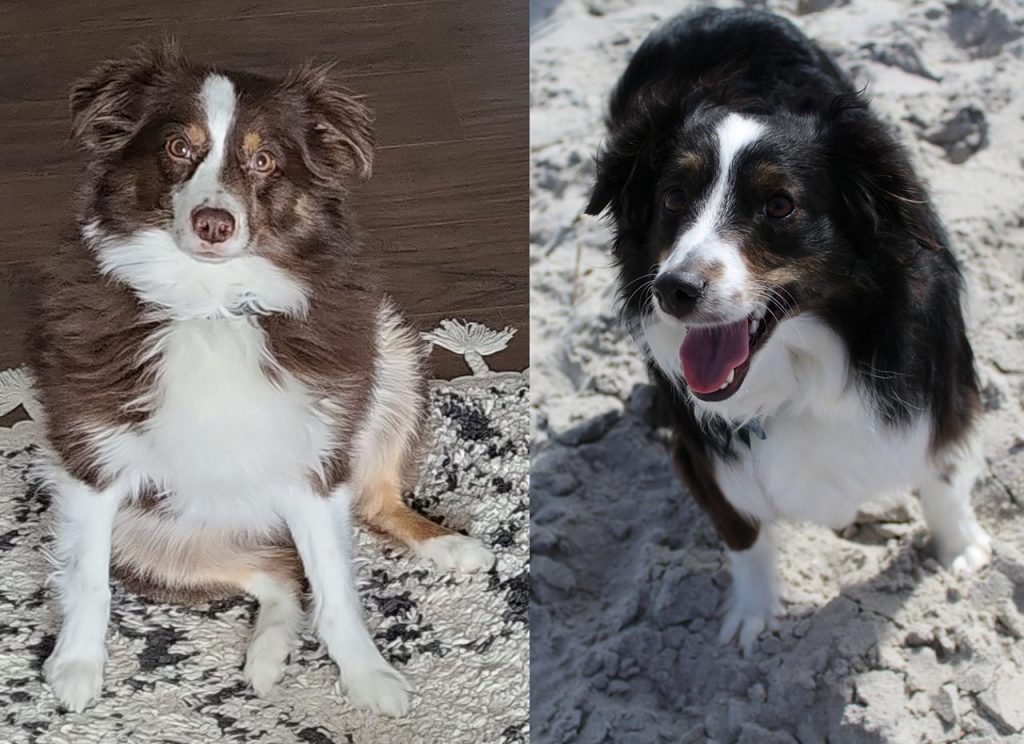 When he's not busy in the garage, Heintz enjoys spending time with his wife, Danielle Heintz, a fellow Marine intelligence analyst and a current masters student in management information systems, and their two mini Australian Shepherds, Dexter and Murphy. Heintz plans to complete his degree in Spring 2023 and hopes to stay in the area working as a design or product engineer.
For others who have an interest in entrepreneurship, Heintz recommends the Entrepreneurial Product Development Engineering Handbook (available at the ISU library) by Jim Fay, a chemical engineering alum from Iowa State who has his own successful entrepreneurial record.
"It was an excellent guide that gave me the structure and organization I needed to get started," said Heintz. "I also encourage other aspiring innovators to take advantage of the many entrepreneurial activities offered at Iowa State. I don't think I'd be where I am today without that support."