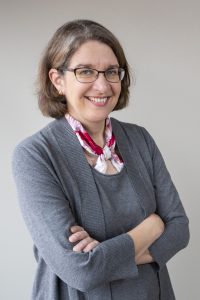 Sarah Ryan, Joseph Walkup Professor, has been named the interim chair for Iowa State University's Department of Industrial and Manufacturing Systems Engineering (IMSE). Ryan succeeds Gül E. Kremer, Wilkinson Professor in Interdisciplinary Engineering, who has been appointed to serve as Senior Director Presidential Projects reporting to President Wintersteen.
Ryan, who also serves as a professor in IMSE, has been on the Iowa State University faculty since 1999. She previously served as the department's interim chair (2006-2007) as well as the department's associate chair of research (2002-2006) and as director of graduate education (2008-2014). She directs the DataFEWSion Graduate Traineeship and previously served as editor-in-chief of The Engineering Economist journal (2017-2021). Ryan holds a B.S. in systems engineering from The University of Virginia as well as a M.S.E. and Ph.D., both in industrial and operations engineering from The University of Michigan. Her research focuses on planning and operation of manufacturing and service systems under uncertainty. Currently, much of her work focuses on electric power systems, financial optimization, and supply chain design.
In her new role, Kremer, who will continue to serve as a professor in IMSE, will oversee a building project that will serve as the home for the IMSE department. She chaired the IMSE department from 2016 to 2021.
"We are very appreciative of the leadership that Dr. Kremer provided to the IMSE department during the past five years," said W. Samuel Easterling, James L. and Katherine S. Melsa Dean of Engineering. "Likewise, we appreciate Dr. Ryan's willingness to serve the department as interim chair.  We are very excited about the future and the great things that will be happening in the department as we continue to grow our outstanding program educating future engineering leaders in the principles of improving processes to help people."
Ryan will serve as interim chair until the next C.G. "Turk" & Joyce A. Therkildsen Department Chair in Industrial and Manufacturing Systems Engineering is hired.