Co-founder and principal of Peterson Contractors, Inc., Gale M. "Cork" Peterson, Jr., and his family, have given a generous gift to establish the Peterson Endowment for Geo-Construction Innovation at Iowa State University's Department of Civil, Construction and Environmental Engineering (CCEE).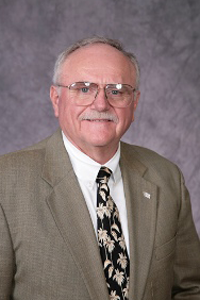 The endowment will be used in a multi-prong approach to further research, teaching and industry engagement in geotechnical and construction engineering – areas Peterson says are intertwined and depend on one another. Undergraduate and graduate students will be supported to conduct research in geo-construction topics. Faculty will be able to mentor those students as well as work with industry to identify needs and develop solutions.
"All the years of my career I have seen the interaction of construction and geotechnical engineering and find it interesting that more time is not spent studying and improving this interaction," said Peterson, a 1966 Iowa State construction engineering graduate and the first student to graduate from the heavy/highway option. "It is our goal that this gift will allow Iowa State University to become the industry leader in geo-construction means and methods."
Peterson is a longtime member of the Iowa State University Construction Engineering Advisory Council, which includes several years as chair. During his career, Peterson has been a key industry contact for Iowa State construction engineering students and alumni.
"We are so grateful to Cork and his family for their generous gift to the College of Engineering," said W. Samuel Easterling, dean of the college. "These funds will help keep Iowa State at the forefront of innovation through research and industry partnership."
This endowed fund is intended to inspire and encourage the leadership, development, enhancement, and promotion of the academic advancement through research and teaching synergies in geotechnical and construction engineering. Advancement of research that will benefit the geo-construction industry will be a particular focus on this endowment.
"I am very grateful for the impact that Cork has had on our department during his many years of involvement and for this generous endowment," said David Sanders, CCEE department chair and professor. "The generosity of this gift will be tangible and seen for many years to come."
Located in Reinbeck, Iowa, PCI is a leader in the heavy and highway industry. PCI is involved with projects throughout the state of Iowa and the entire continental United States with vast experience in grading, site work, demolition, crushing, structures, Geopiers®, deep foundations, earth retention and design-build projects.
###
Contact: 
David Sanders, chair and professor, Civil, Construction & Environmental Engineering, sandersd@iastate.edu
Kristine Perkins, communications specialist, Civil, Construction & Environmental Engineering, perkinsk@iastate.edu