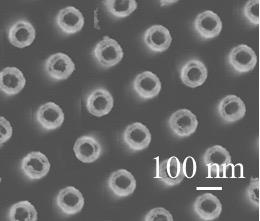 The innovation and development of advanced nanotube technology has massive potential to affect progress in several research fields. Iowa State University Associate Professor Long Que is one of the Department of Electrical and Computer Engineering (ECpE) faculty members working on the advancement of this technology.
Que is the principal investigator of the project "A Microfabrication Compatible Method to Fabricate Silicon Nanotubes for Nanoprobe Applications." The project recently received an award from the National Science Foundation (NSF) for over $400,000. Que said the project aims to provide a more cost effective way to develop silicon nanotube technology.
"We have been exploring an inexpensive way to fabricate nanotubes on chips using microfabrication tools," Que said. "Among their many potential applications, the nanotubes will be used as nanoprobes for neuronal stimulating and recording, which could eventually be used in neuroscience experiments and clinical settings for treating some neurodegenerative diseases."
Working with Que on the project are Director of Biology and Genetics Undergraduate Program and Morrill Professor Donald Sakaguchi of the Genetics, Development and Cell Biology Department, as well as Professor Pranav Shrotriya of the Department of Mechanical Engineering. Sakaguchi's role in the project is to work on nanoscale modeling, while Shrotriya's is to perform neuron-related experiments. Que said one of the most exciting aspects of the project is the potential applications nanotube technology can have in healthcare and biomedical engineering.
"Silicon nanotubes can provide a unique platform for drug delivery, cell transfection and advanced patch-clamp recording techniques," Que said. "[By] using a nanotube as a pipette in a patch-clamp technique, high resolution monitoring of ion channels in cell membranes can be achieved, benefiting studies related to drug discovery targeted toward ion channelopathies and related diseases."
Que said the successful completion of the project will provide far reaching benefits, even outside of healthcare.
"The success of this project will provide a toolset for applications in healthcare, biomedical, energy, aerospace and chemical industries," Que said. "[Therefore], the outcomes from this research may benefit the U.S. economy and society."