Carissa Moyna, concurrent MBA business administration and civil engineering student, didn't expect students to enjoy composting as much as they do. 
After her research work freshman year with the Iowa State compost facility, Moyna wanted to build upon the work she did. The fall semester of her senior year, she established the Compost Team within the club Engineers for a Sustainable World at Iowa State.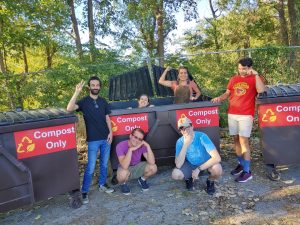 The Compost Team is now entering its third year of establishment, still under Moyna's direction.
"I established the Compost Team just to expand utilizing our Iowa State composting facility to  more places on campus," Moyna said. "At that time, it was only serving the three main dining halls, and so workers, once the trays came in, would separate the food that could be composted and those were put in dumpsters and taken to Iowa State's compost facility."
In an attempt to increase student involvement with composting efforts on Iowa State's campus, members of the Frederiksen Court Community Council reached out to Moyna with hopes of starting a composting system. 
Coincidentally, Moyna was seeking participants for a trial, so the compost team was eager to work with Frederiksen Court residents. In cooperation with Facilities, Planning and Management, they were able to come up with and execute a plan. 
After residents fill up their composting buckets with the correct food items, they will then dispose of their items in a designated dumpster, where it is then collected and taken to the compost facility about two miles off campus, where they then compost the food waste. The final product is then used on campus in various applications such as new construction sites and landscaping.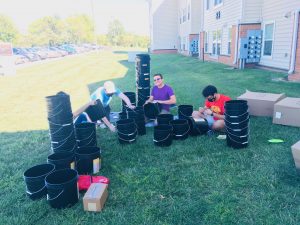 The compost facility also collects manure from the dairy farm as well as brush and leaves from campus. 
Sixty residents signed up, and throughout the duration of the six-week trial—which took place over the course of the spring semester in 2019—others quickly joined in, creating 160 pounds of compost. 
With trials and tribulations potentially also come great success. When looking to resume the program this past September, Moyna and her team took results from the trial and decided to modify the program as needed. 
"That's our biggest challenge when it comes to this is properly educating and trying to promote 'Don't be lazy' and paying attention to what you're throwing in there," Moyna said. 
Throughout the trial, participants used one-gallon, recycled yogurt containers and only had one dumpster to throw out their food waste. Now that the program is out of the trial stage, the Compost Team, with funding from Student Government, was able to have materials such as 100 three-and-a-half-gallon buckets and five dumpsters. 
To keep participants involved and interested in the program and continuing their composting efforts, the Compost Team is hosting workshops and events to help educate and inform. On Oct. 23rd,, participants have the opportunity to tour the compost facility, if interested, to see what happens to their food waste after it leaves their bucket into the dumpster. 
Another event such as watching documentaries regarding the topic of sustainability and the impact composting has on the environment, helps to keep students involved with composting efforts. 
In the future, Moyna hopes the Compost Team continues to grow and expand beyond Frederiksen Court and students from all across campus realize how easy and important composting can be.