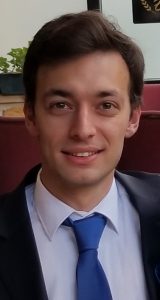 Berk Gulmezoglu's dedication to his research and analysis of potential microarchitectural attacks has taken him all over the world. Now, Gulmezoglu finds himself at Iowa State University, joining the Department of Electrical and Computer Engineering (ECpE) as an Assistant Professor. Beginning his education at Bilkent University, Turkey, Gulmezoglu earned his bachelor's and master's degrees in electrical and electronics engineering, in 2012 and 2014 respectively. 
After receiving his master's degree, Gulmezoglu came to the United States and began his Ph.D. program at Worcester Polytechnic Institute (WPI) in Massachusetts. During his Ph.D. studies, Gulmezoglu completed an internship in VMware in Palo Alto, California, and joined the security research group at Franhofer AISEC, Germany. Finally, after completing his Ph.D., Gulmezoglu now finds himself a part of ECpE. Gulmezoglu said it was the resources and initiative shown by ISU that brought him here.
"Iowa State University has a large amount of resources for both students and faculty members, which increases the productivity in research as well as teaching," Gulmezoglu said. "The newly opened cyber security [engineering] major in the ECpE department indicates that industry needs more experts in information security. Iowa State University strives to fulfill the needs of industry by training students in cyber security, which attracted me the most to ISU."
ISU introduced the cyber security engineering major in the fall of 2019, making it the first program of its kind in the state. With his arrival to campus, Gulmezoglu hopes to continue building and evolving the program.
"I believe that I will contribute to the cyber security [engineering] major by proposing new classes and projects based on computer architecture security and data analysis," Gulmezoglu said. "Moreover, I am looking forward to collaborating with undergraduate and graduate students, as well as faculty members, to discover new ways of establishing better security features in computer and deep learning security."
Gulmezoglu's past research has exposed potential privacy concerns in cloud computing, personal computers and mobile phones. At ISU, he hopes to continue improving the security of sensitive information.
"[At] Iowa State University, I am planning to conduct large-scale analysis of potential leakages in deep learning security and privacy algorithms," Gulmezoglu said. "Furthermore, I will contribute to microarchitectural attacks by finding novel leakages in Intel microarchitecture design to prevent the confidential information leakage in commercial products."