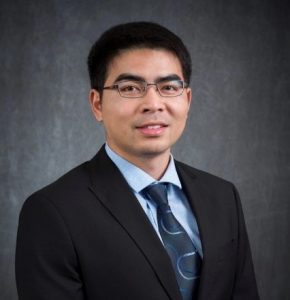 Each new semester at Iowa State University (ISU) brings a lot of new faces to campus. With the start of the fall 2020 semester, one of those faces is Department of Electrical and Computer Engineering (ECpE) Assistant Professor Houqiang Fu. 
Fu is originally from Central China. After receiving his bachelor's degree in materials physics from Wuhan University, China, in 2014, Fu went on to earn a Ph.D. in electrical engineering from Arizona State University in 2019. Fu said the move to ISU had a lot to do with the research he hopes to work on.
"The reason why ISU is a good fit for me is closely related to what research I am planning to conduct here," Fu said. "First of all, the next big leap forward in wide bandgap semiconductor power electronics is integrated systems, or power ICs. The department [at ISU] is very strong in power energy and systems, which is a great match. I can strengthen the department's research in power electronics from the device perspective."
Fu's research mainly focuses on developing energy-efficient next-generation power electronics based on wide bandgap semiconductors, such as gallium nitride and gallium oxide. Fu said these new power electronics can become much more efficient than traditional systems.
"Currently in the US, power conversion losses account for around 10 percent of all the electricity generated, which is unfortunately more than the electricity produced by all renewable sources combined," Fu said. "This situation is only going to exacerbate with the rise of electric vehicles and data centers. These new power electronics can be 10-100 times more efficient than traditional Si based devices, which are perfect candidates for addressing this pressing issue in power infrastructures and consumer electronics."
Fu also said that research ISU already conducts provides a natural fit for where his interests lie.
"Gallium nitride materials are great for biosensing applications," Fu said. "The department and ISU have lots of research activities in this area, especially those related to plants. I think the gallium nitride based biosensors can be quite exciting and interesting for that research."
Fu said that despite all of the research opportunities, the thing that excites him most about ISU is the people.
"I am most excited for great collaborators and abundant collaboration opportunities in ISU that can push forward the wide bandgap semiconductor research," Fu said.
Fu's accolades include the 2018 ASU Outstanding Research Award, as well as the 2019 Palais Outstanding Doctoral Award, which is the highest honor for ASU Ph.D. students in the ASU Department of Electrical, Computer and Energy Engineering. His work has been featured in over 110 journal and conference publications, three book chapters, and 10 pending patents. More information about Fu's research can be found here: https://www.ece.iastate.edu/houqiangfu/research/