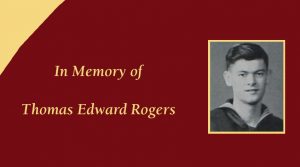 Thomas Edward Rogers, a former instructor and alumnus of the Iowa State University Department of Electrical and Computer Engineering (ECpE), has passed away on June 27, 2020 at the age of 95.
During his time at Iowa State, Rogers had lettered in Track and was in Navy ROTC. He was also a member of Pi Mu Epsilon and lived in Pammel Court. On the 22 of March 1946, Rogers received a bachelor of science degree in electrical engineering from Iowa State in the morning, was commissioned an Ensign in the US Navy at noon and later that evening married Harriett Ferguson Rogers, his wife of 74 years, according to Rogers' obituary. After World War II, Rogers returned to Iowa State, where he was an electrical engineering instructor while earning his master's degree, which he later received in 1950.
In 1950, he was hired by Douglas Aircraft Company, and he and his family moved to Santa Monica, Calif. Rogers was an active member of the Malibu Optimist Club, an organization dedicated to providing positive role models and supporting children of the Malibu and Camp Miller area, as well as in the surrounding Santa Monica Mountain area. He was also a member of the Pt. Dume Yacht Club and helped convince the school board to build Malibu Jr High. Rogers sponsored high school exchange students from Finland, Norway, Germany and Brazil and later visited them during their travels.
Rogers was also an amateur radio enthusiast. After retirement from McDonnell-Douglas, which is now associated with Boeing, in 1984, he earned a second retirement from British Aerospace Engineering Systems. In 1999 Rogers and his wife moved to Denver, Colo., to a Covenant Village retirement center for 8 years and then transferred to Samarkand in Santa Barbara, Calif.