Xiaoli Tan, professor of materials science and engineering, was named a Fellow of the American Ceramic Society. Tan was one of only twenty-three members of the American Ceramic Society (ACerS) to receive the Fellow designation this year.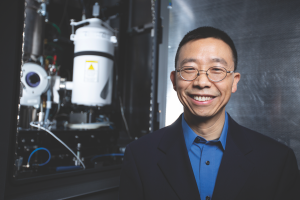 This ACerS Fellow honors members that differentiate themselves by their outstanding work in ceramic arts or sciences, broad and productive scholarship in ceramic science and technology, conspicuous achievement in ceramic industry, or by outstanding service to the Society.
 In October, Tan will receive his award at the Society's Annual Honor and Awards banquet. This event takes place during the ACerS Annual Meeting held at the Materials Science and Technology Conference.
The American Ceramic Society currently serves more than 10,000 members across over 70 different countries. It is the leading professional membership organization for ceramic and materials engineers, scientists, manufacturers researchers, plant personnel, educators, and students.