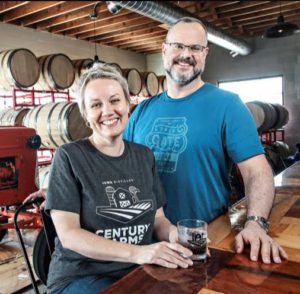 Century Farms Distillery in Spencer, Iowa was founded by Amanda and Ryan Bare in 2017. The Bares journey to starting a distillery can be traced back to their time as students in mechanical engineering (ME) at Iowa State. 
Originally from Grundy Center, Iowa, Amanda had a thirst for a challenge. After being encouraged to pursue engineering by a high school teacher, she decided to join the ME program at Iowa State. 
Amanda became heavily involved in organizations after joining Iowa State. While leading tours for prospective students in the College of Engineering, she was also a member of Tau Beta Pi Engineering Honor Society and the Alpha Omicron Pi Sorority.  
For Ryan, who grew up on a farm near Emmetsburg, Iowa, the decision to study mechanical engineering was inspired by his older brother who earned the same degree from Iowa State in 1991. Ryan was involved in the American Society of Mechanical Engineers chapter advised by Bill Bathie, ME professor emeritus.  
Ryan also took every class instructed by Alfred Joensen, former ME associate professor emeritus who passed away in 2018. Reflecting on his 25 years of working in the energy sector, Ryan says Joensen's power plant design course equipped him with valuable skills for working in the industry.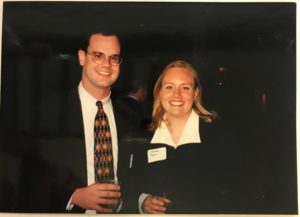 Engineering Passions Unite 
Ryan says he avoided registering for courses before 10am, but that didn't stop him from enrolling in a 7:40am course. Amanda was also in the same class, and the rest was history.  
"Ryan and I had one class together: Electrical Engineering 447, but we did not really meet in that class," Amanda said. "One Friday evening we were both at Welch Ave Station – as engineering students tended to do – and happened to sit at the same table with other ME students." 
After graduating, Ryan moved to Houston, Texas to work for Hoechst Celanese, a Fortune 500 chemical company now known as the Celanese Corporation. Once Amanda graduated in 1997, she moved to Houston and began working for Lockheed Martin Space Systems at the Johnson Space Center.  
Ryan soon transferred to Celanese's plant in Pampa, Texas located in the state's Panhandle. Just thirty minutes west in Borger, Texas, Amanda joined Phillips 66. A few years later, Ryan began working at the same plant. In 2002, Amanda gave birth to their first child. Another move took them to the St. Louis area with ConocoPhillips and their two daughters were born there. 
In 2011, the Bares and their three children moved back to Iowa where Ryan began working in the ethanol industry. Here, he learned how to turn corn into alcohol and soon began their entrepreneurial endeavor.  
Corn Makes Whiskey, and Vodka  
With the Bares careers carrying them to many corners of the United States – and for Ryan, beyond the Lower 48 – the purpose of establishing the distillery was clear.  
"I've discovered that most folks have no idea what we do, here, in Iowa," Ryan said. "I wanted to create a tangible consumer product that tied our farms to something city dwellers could appreciate." 
With over 19,000 century farms in Iowa, Amanda and Ryan are concentrated on recognizing the long-standing tradition of growing corn in the state. They use a customized distillery process for their whiskey that sources their corn exclusively from individual farmers.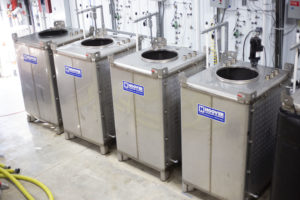 The process for converting ground corn into unaged whiskey takes around seven days. How vodka and whiskey are defined is subject to the standards put forth by the federal government. While vodka is distilled at over 190 proof, whiskey is distilled at under 160 proof. 
"The entire distillery is one giant thermodynamic problem, heat and mass transfer problem and engineering economy problem – all rolled into one," Ryan said.  
Reflecting on the hours spent studying mechanical engineering as undergraduates, Amanda and Ryan say their decision to study engineering has served to be an invaluable component for entering the distillery business. 
"Engineering is a fantastic major for so many things," Ryan said. "The best attribute is the focus on critical thinking and the belief that problems are temporary and can be solved. No technical challenge is insurmountable."  
Looking Ahead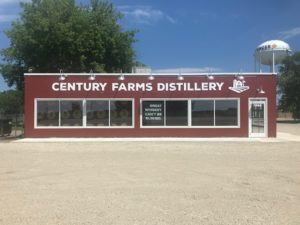 Ryan is now working in a rotational position with BP based in Prudhoe Bay, Alaska. This summer, Ryan will take time off from his BP job to work full time at the distillery. In light of COVID-19, the Bares have temporarily switched their distillery over to producing hand sanitizer.  
Family has been a major component for Amanda and Ryan as they've worked to establish their business. Ryan's father who has now passed on created the coils used for the distilling process and restored the tractor used for off-loading grain. Today, Ryan's 18-year old son helps him and Amanda keep the business up and running.  
Aside from co-operating the distillery, Amanda is involved in the FIRST LEGO League teams through 4-H, the City of Spencer Planning and Zoning Commission, the Spencer Hospital Advisory Board, the Grand Avenue Improvement Corporation and PEO International. Outside of being an active member of the community, she still leaves room for hobbies and brainstorming additions for the distillery.  
"I enjoy knitting and someday would love to carve out a place in our tasting room for a yarn store and a place where people can come to knit and have a drink or two," Amanda said.