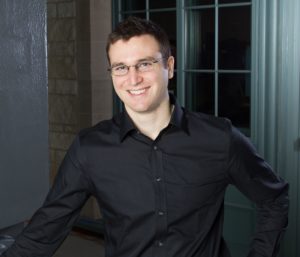 Ethan Secor's family has a long history with Iowa State. This includes his grandfather, Gerald Secor (B.S. '48), along with 15 living ISU alumni, and extends back over a century. Secor will continue this family tradition when he joins the ME faculty as an assistant professor in fall 2020.
Secor grew up in Stillwater, Minnesota, about 25 miles northeast of Minneapolis. He was attracted to the STEM field because of his father, Robert, who works as a chemical engineer for 3M.
"Growing up, I always enjoyed learning how things worked, and finding opportunities to apply science and math to solve problems," Secor said.
Secor majored in chemistry and physics as an undergraduate at Drake University and then completed his Ph.D. in materials science engineering at Northwestern University. With expertise in these areas, he will bring a unique perspective to Iowa State's mechanical engineering department.
"My background in chemistry and physics provides a strong fundamental background for my research, while my graduate school experience in materials science and engineering shifted my focus towards applied engineering problems," he said.
Secor has worked as a Harry S. Truman postdoctoral fellow at Sandia National Laboratories since 2017. There he studies a digital printing technology known as aerosol jet printing. He first used an aerosol jet printer in graduate school, but at Sandia he has learned how to build one. He said this knowledge provides a lot of flexibility in customizing the equipment to explore new concepts and push the boundaries of the technology. He primarily focuses on printing electronic materials and devices, as well as advancing the understanding and control of the printing process itself.
"My work at Sandia has furthered my transition to the field of mechanical engineering," Secor said. "To a large extent, once you get to hands-on research and real problems, the boundaries between disciplines become less meaningful and distinct."
At Iowa State, Secor will teach courses such as ME 324 Manufacturing Engineering, ME 345 Engineering Dynamics and ME 370 Engineering Measurements. He will also establish a research lab, which will focus on advanced manufacturing. Specifically, he wants to expand the functionality and capabilities of aerosol jet printing while pursuing applications in electronics, energy and sensing.
He said he looks forward to working with researchers within the ME department at Iowa State who have expertise in advanced imaging and machine learning. He also wants to collaborate with others on campus who have an interest in the area of printed electronics.
In addition to collaborating with other faculty, he is excited to get back into the classroom and to mentor students in his lab. He said a desire to learn is one of the most important qualities he looks for in his students. When recruiting graduate students to his lab, he looks for someone who is interested in his research, eager to learn, reasonably self-directed and comfortable working across boundaries.
"My research tends to be highly interdisciplinary, so a breadth of interest, ability to work well with others, and willingness to ask questions are key," he said.
When he's not busy in the classroom and in the lab, he enjoys distance running and competing in triathlons. He also enjoys hiking, camping, canoeing and exploring national parks with his wife, Samantha. He said Yosemite and Mt. Rainier are among his favorite parks so far. But for now, he looks forward to coming back to Iowa so he can explore all that Ames has to offer.
"The mechanical engineering department at Iowa State has an impressive scope, and really pushes beyond traditional mechanical engineering topics to evolve with technology and societal needs. It's a department I can be at home in, while at the same time bringing a unique skill set to capitalize on collaborations and learn a lot in the process."