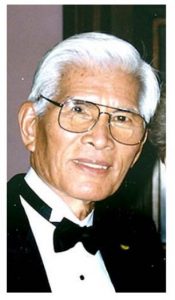 Hsung-Cheng "Cheng" Hsieh, professor with Iowa State University's Department of Electrical and Computer Engineering (ECpE) from 1968-98, passed away on Dec. 2, 2019, in Ames, due to complications from a stroke. Hsieh was 90 years old.
After attending prestigious universities and receiving a bachelor of arts in mathematics from Dartmouth College and master of science in electrical engineering from the California Institute of Technology, professional electrical engineering degree from Stanford University, and a doctorate in applied math from UC Berkeley, Hsieh found a passion for teaching and research.  
Hsieh conducted a lot of his research on plasma physics, conductors and lightwave technology. He had many publications of his work, in well known journals like IEEE and the Journal of Applied Physics.
Hsieh was known to be gentle and kind, having many hobbies outside of work. He and his wife, Janet, often went ballroom dancing in Ames and Des Moines often. Hsieh also enjoyed traveling and tennis.
With all of the research, teaching and passions Hsieh had inside and outside of work, he had a very full schedule, but he always made time for his family, friends and coworkers. His drive for success is remembered in all the research he published and the variety of courses he taught and developed during his time at Iowa State.