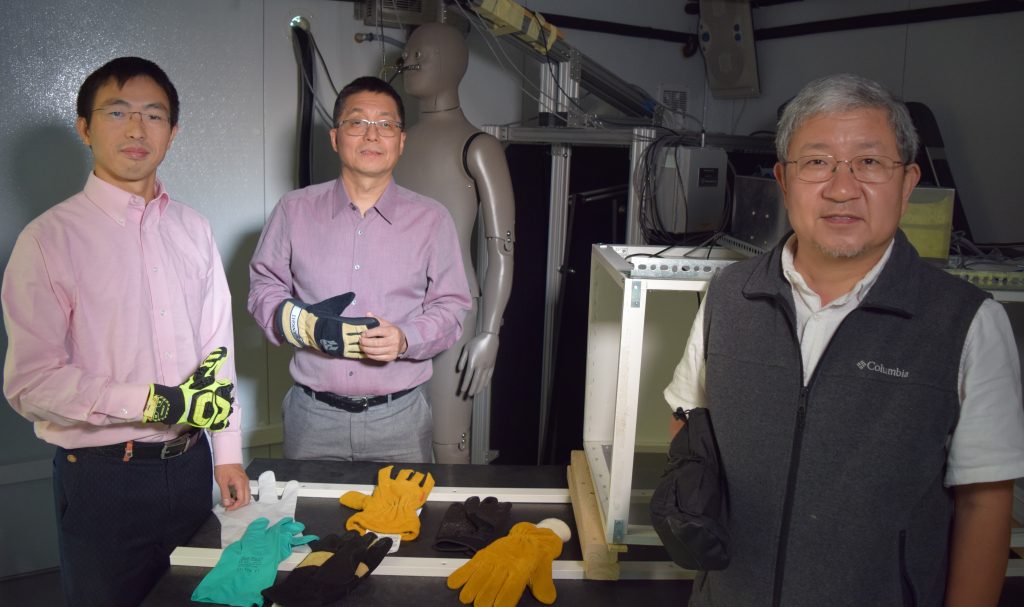 Firefighters and first responders need effective personal protective equipment (PPE) that provides the right combination of functionality, protection and comfort. A project led by a team of Iowa State University researchers aims to develop fundamental knowledge and tools for the next generation of high performance PPE.
Guowen Song, Noma Scott Lloyd Chair in Textiles and Clothing and associate professor of apparel, events and hospitality management, is leading the project titled "Development of hand-specific model and systematic tool (HMST) for next generation gloves used for firefighters and other emergency responders." Funding is provided by the Firefighter Safety Research and Development (R&D) Activity office within the U.S. Department of Homeland Security's Federal Emergency Management Agency. These R&D projects are aimed at improving firefighter safety, health or wellness through research and development that reduces firefighter fatalities and injuries.
Song has assembled a multidisciplinary team of researchers from textile engineering and design, human development and family sciences, industrial and manufacturing systems engineering, kinesiology, mathematics and mechanical engineering.
"This is the nature of multi-science. We really need a team in order to make revolutionary progress," Song said.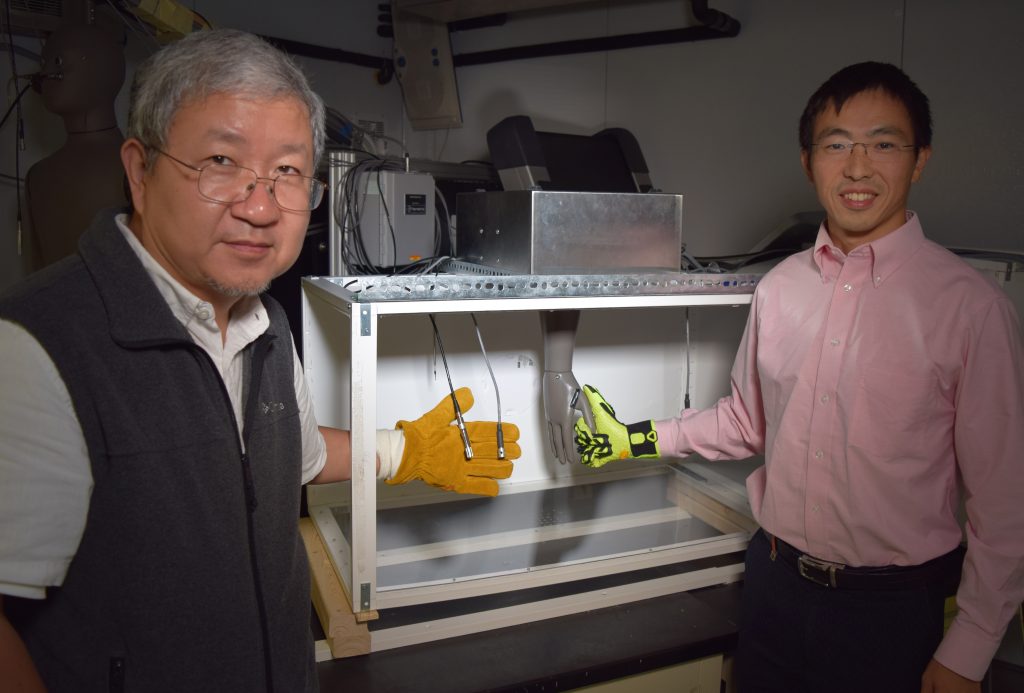 Xinwei Wang, professor of mechanical engineering, will bring his expertise in thermal science to the project.
"I'll help to design a new material that provides thermal protection," said Wang. "To do this, I will use some of the techniques that I've developed in my Micro/Nanoscale Thermal Science Laboratory, such as the transient electro-thermal technique for measuring thermophysical properties of micro/nanofibers and the differential laser-heating and infrared imaging, or DLI, technique for measuring the thermal resistance of coatings and cloth."
Wang first connected with Song when Song arrived on campus in 2014, and they have collaborated on projects in 2015 and 2018. The duo said they hope to expand upon their past research with this current project.
Lizhi Wang (no relation to Xinwei), associate professor of industrial and manufacturing systems engineering (IMSE), will contribute his expertise using mathematical modeling, optimization and machine learning.
"I will help develop a hand-specific thermoregulation model and explore the design of next-generation high-performance gloves for firefighters," Lizhi Wang said.
Wang added that the benefits of interdisciplinary research such as this are "bi-directional."
"On the one hand, industrial engineering, or IE, provides advanced modeling and solution techniques to improve the effectiveness and efficiency of decisions. In this case, better design decisions will lead to more protective gloves and fewer injuries for firefighters," said Wang. "On the other hand, challenges from this specific application will also motivate improvements in the IE tools and methods, which will subsequently benefit other application areas."
Song said contributions from engineers helps to advance the research within the field of textiles by bringing in aspects of applied science that he could not do by himself.
"When people think of textiles they don't necessarily think science. They think design or art," said Song. "There's a lot of lab simulation, modeling, materials engineering and more. Incorporating these technologies into the textile side is crucial in making the textile system more responsive to the body and hazardous conditions in the environment."
The researchers hope that one day the technology they develop from this research might be applied to other fields such as foundry work, hazmat responders, healthcare and the military.
The Research Team: Warren Franke, kinesiology; James Lang, kinesiology; Ellen McKinney, apparel, events, and hospitality management (AESHM); James Rossmanith, mathematics; Daniel Russell, human development and family sciences and psychology; Chunhui Xiang, AESHM; Lizhi Wang, industrial and manufacturing systems engineering; and Xinwei Wang, mechanical engineering.