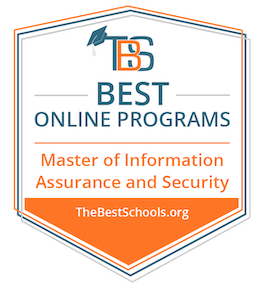 Iowa State University's information assurance program, led by University Professor Doug Jacobson and hosted by the Department of Electrical and Computer Engineering (ECpE), has been ranked as one of the nation's top Master's in Information Assurance and Security degree programs on TheBestSchools.org for 2019. The program came in ranked at number five in the nation.
Iowa State's information assurance online program received this ranking due to its "interdisciplinary approach, with a blend of in-depth coursework and hands-on research and projects," according to TheBestSchools.org. "The program develops a strong foundation of knowledge and skills necessary to information assurance professions. Students engage in courses covering key aspects of information assurance, including computer security strategies and implementation, ethical and legal issues in the field, digital forensics and information warfare."
Said Jacobson, "This recognition shows the strength of the program and the faculty who teach the courses."
TheBestSchools.org points out that the National Security Agency (NSA) and the Department of Homeland Security designate Iowa State as a Center of Academic Excellence (CAE) in Cyber Defense Research and Information Assurance Education. Two decades ago, in May 1999, the NSA launched the CAE designation program, with the goal of reducing vulnerability in the United States national information infrastructure by promoting higher education in cyber defense and developing professionals with cyber defense expertise. The program also aimed to raise the nation's ability to actively defend national assets through defensive best practices.
Seven universities were initially designated as CAE schools, including Iowa State University, and in the year 2000, ISU's Information Assurance Center (IAC) was formed. Since then, the IAC has strived to become a nationally recognized authority in information assurance research, teaching and outreach.