Leading a global multimillion-dollar advertising campaign during the 2018 Winter Olympics required more than a creative marketing strategy. It required problem solving.
After nearly two decades at P&G, that's precisely a skill Tom Duncan ('01 mech eng) possessed. And he credits the groundwork of his development to Iowa State and the engineering program.
"I had a really nontraditional path to a career in consumer marketing," said Duncan. "But my engineering degree taught me that any big problem is just a handful of small problems."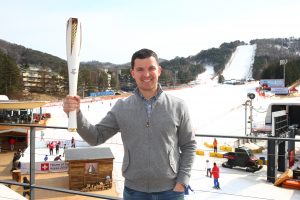 Duncan said he never planned to stay at one company for so long, but this August he will celebrate 17 years at P&G. Duncan said that the global scale and diversity of opportunities at P&G keep his career challenging and exciting.   In the just the last three years, Duncan's work has taken him to South Korea, Japan, China, Singapore, the UK, France, Switzerland, Brazil and Panama.
While at P&G, Duncan has worked across a number of brands, including Crest, Oral-B, and Head & Shoulders.  Some of his accomplishments consist of the 2018 Olympics campaign "Love Over Bias," creating two new marketing campaigns for Head & Shoulders that returned the brand to growth, as well as developing award-winning advertising with Major League Baseball and the National Football League.
"In school I fixed engineering problems. Now I fix different kinds of problems," said Duncan.
After he graduated in 2001, Duncan started as a manufacturing process engineer at P&G in Iowa City, Iowa, where he designed and installed new equipment and created new training methods that reduced inventory build and lowered expenses. The results were so impressive, Duncan's efforts were globally reapplied by P&G.
Duncan quickly moved into an operations manager role and by 2006 moved to Cincinnati, Ohio, transitioning to brand management, first working on both the Crest and Oral-B oral care brands. Duncan then relocated to Fayetteville, Arkansas, where he led customer marketing efforts for P&G as a brand manager for Walmart.  Now the associate brand director for the global P&G brand, Duncan leads digital marketing and content partnerships across P&G globally, as well as the P&G global Olympics program.  Duncan has worked with both professional athletes, including Lindsay Vonn and Troy Polamalu, and world-recognized journalists, like Katie Couric and Arianna Huffington.
"Building marketing programs requires extensive teamwork and partnership, both inside P&G and with outside business partners," said Duncan. "I do nothing by myself.  I credit the engineering program at Iowa State for demanding teamwork early in my academic career, which is a critical professional skill regardless of where your career takes you."
For Duncan, curiosity produces success.
"You spend a lot of your waking hours at work. It's important to be intellectually challenged when you're there," said Duncan. "You don't stop learning after you graduate. Graduation is just the beginning."