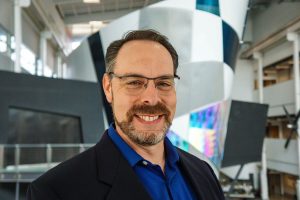 Eliot Winer has been named director of the Virtual Reality Applications Center (VRAC) effective July 1. He has served as an associate director of VRAC since 2009, and is a professor in the Department of Mechanical Engineering. Winer replaces James Oliver, who was named director of the Student Innovation Center earlier this year.
In addition to naming a new director, VRAC will now report to the College of Engineering – moving from the Office of the Vice President for Research. The change was recommended to support new strategic areas the center will be exploring in research, education and outreach. This change was also effective July 1.
Winer has more than 20 years of experience working in virtual reality and 3D computer graphics technologies. He received a B.S. in aerospace engineering from The Ohio State University in 1992 and M.S. and Ph.D. degrees in mechanical engineering from the University at Buffalo in 1994 and 1999. Winer teaches courses on mechanical systems design, optimization and professional ethics, and also holds courtesy appointments in the Departments of Aerospace Engineering and Electrical and Computer Engineering.
Winer's research interests include large-scale collaborative design methods; analysis, visualization and interaction with large data sets (i.e. "Big Data"); multidisciplinary design analysis and optimization; computer-aided design and graphics; and virtual reality and augmented reality for use in engineering design and manufacturing. He has had funding from a variety of sources including John Deere, the Boeing Company, the Department of the Army, Air Force Office of Scientific Research, National Science Foundation, Department of Energy, and the National Institute of Food and Agriculture. He is also a co-founder of three startup companies, the latest being BodyViz.com.
VRAC is an interdisciplinary research center focused at the intersection of humans and technology, aimed broadly at enhancing the productivity and creativity of people. The VRAC's world-class research infrastructure supports the research of faculty and students across campus, as well as the interests of collaborators from several federal agencies and numerous industry partners.