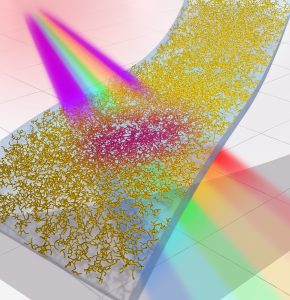 Shan Jiang, assistant professor of materials science and engineering, and his team, have recently been published in high-impact ACS Applied Materials and Interfaces for the article titled, "Thin Biobased Transparent UV-Blocking Coating Enabled by Nanoparticle Self-Assembly." The first author is Emily Olson, graduate student in materials science and engineering. Coauthors include Yifan Li and Ayuna Tsyrenova, both graduate students in materials engineering; Fei Lui, post-doctorate in materials engineering, Fang-Yi Lin, graduate student in chemical and biological engineering; Ana Miller and Devin Palm, undergraduate students in materials engineering and industrial engineering, respectively; Eric Cochran, assistant professor of chemical and biological engineering; Keith Vorst, associate professor of food science and human nutrition; and Greg Curtzwiler, assistant professor of food science and human nutrition.
The premise of this research project is to improve the efficiency of ultraviolet (UV) protection, which is applicable not only to sunscreen products, but also to packaging in the food industry, such as that of meat, dairy and lipid-rich snacks like potato chips. This technology can be applied to prolong the shelf life of food and groceries. In addition, the coating is formulated with biobased environmentally friendly materials.

The team's resulting coating is highly effective, and the film thickness (~ 0.25 µm) is about 100 times thinner than conventional coatings. These properties were achieved with the use of ZnO nanoparticles assembled within the hydroxyethyl cellulose (HEC) matrix. Similar structures were also obtained with TiO2nanoparticles. Furthermore, the team discovered a new mechanism enabled the high efficiency. Nanoparticles formed a unique fractal network structure with the biobased polymer binder HEC. The same mechanism may be broadly applied in other types of nano-composite materials to enhance their performance.
The study offers a cost-effective and scalable method to fabricate transparent UV-blocking coating. The biobased materials and food protection applications will promote sustainability and reduce waste. A patent application has been filed based on this technology. This work is partially supported by the National Science Foundation's (NSF) Industry–University Cooperative Research Centers program, the Center for Bioplastics and Biocomposites, the Polymer and Food Protection Consortium, and a USDA and NSF grant.
Read the published article here.