Larry Cormicle, Dave and Katy Pepper Senior Lecturer in Iowa State University's Department of Civil, Construction and Environmental Engineering (ISU CCEE), is retiring this May. Cormicle has been teaching at ISU since 2002, has a 24-year career in the construction industry and has been a construction educator for nearly 29 years. He is a registered professional engineer of construction engineering in Iowa and has taught both construction planning and scheduling courses and an advanced project management capstone course.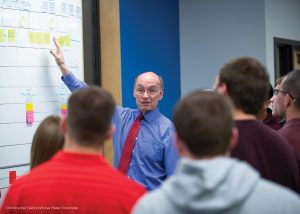 Cormicle has served as chair for the construction engineering curriculum committee in ISU CCEE. He has been deeply involved with the Associated Schools of Construction (ASC) as a coach for students in the department. Cormicle also advises the ISU Associated General Contractors (AGC) Student Chapter and the ISU National Association of Home Builders (NAHB) Student Chapter. With his passion for leadership, coaching and student development in construction engineering, Cormicle wants his students to strive to be great engineers.
"It's not difficult to see Larry Cormicle's passion for construction engineering and our program at Iowa State," said David Sanders, Greenwood Department Chair and Professor. "During his 17 years at Iowa State, Larry has encouraged his students to excel in their work and has provided students with insight from his real-world experiences. As a student organization advisor and mentor, he has fostered a network of students and alumni who are serving their communities all over the United States and globally. Larry lives his life in service to others. We will tremendously miss his drive and energy."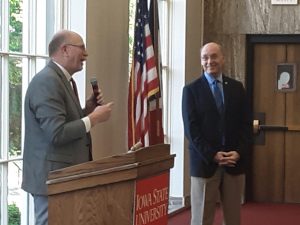 "It has been my honor and privilege to educate tomorrow's great builders over the past 17 years at Iowa State, my alma mater," said Cormicle. "Teaching my undergraduate and graduate students in construction engineering from the office that was inhabited by my own faculty advisor during my time at Iowa State is a symbol of my professional life coming full circle. What a great way to move onto retirement, leaving the ISU Construction Engineering Program better than the day I arrived in 2002."
Listed below are Cormicle's honors and achievements over the span of his career. His last day with ISU CCEE will be August 15, 2019.
Dave and Katy Pepper Senior Lecturer in Construction Engineering 2018-present
Superior Engineering Teacher Award, College of Engineering, 2018
Award for Academic Advising, Iowa State University, 2018
Weitz Faculty Fellow in Construction Engineering, 2014-2018
Superior Engineering Advisor Award, College of Engineering, 2016
Glenn H. DeStigter Scholar in Construction Engineering, 2007- 2014
Outstanding Educator Award – Associated Schools of Construction, 2012
Outstanding Advisor Award, Associated General Contractors student chapter – Engineering Student Council, 2010 – 2012
Engineering Student Council Leadership Award, 2004, 2006, 2007, 2008
Outstanding Educator Award – Associated General Contractors of America Education and Research Foundation, 2007
Memorable Teacher Award, Center for Excellence in Learning and Teaching – Iowa State University, 2007
Outstanding Faculty Member Award – Interfraternity Council, 2005
Joseph C. and Elizabeth A. Anderlik Faculty Award for Excellence in Undergraduate Teaching – ISU CCEE 2007