After years of serving on the Iowa State University (ISU) Faculty Senate, University Professor Steve Freeman has decided to step down from his senate duties this spring. Freeman has been involved in the senate since 2001 and served as senate president during the 2011-2012 term.
"Steve has shown great commitment to service through his long-time work on the faculty senate," said ISU President Wendy Wintersteen. "He has done an excellent job supporting faculty interests and promoting thoughtful change to advance the university and its teaching, research and extension missions."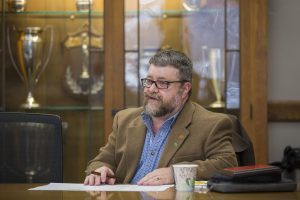 Freeman is a university professor and faculty advisor to the president at Iowa State University. His responsibilities include leading university-level initiatives and providing counsel to the university president concerning faculty, staff and student issues and grievances. His research interests are in the areas of occupational and rural safety and health and in the area of scholarship of teaching and learning.
"Shared governance is a hallmark of well-functioning universities; however, for shared governance to work, it takes continuous effort from both the faculty and the administration," said Freeman. "I have been honored to represent my colleagues by ensuring that the faculty voice is part of critical university decisions. This partnership between faculty and administrators helps accomplish the university's mission. My senate work has also given me the opportunity to work with faculty, staff and administrators across campus."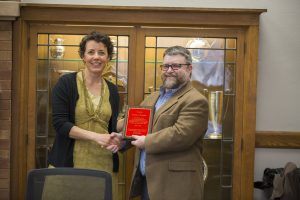 Freeman currently chairs the College of Agriculture and Life Sciences (CALS) Faculty Caucus and ISU Athletics Council.
Below is a history of Freeman's involvement within the ISU Faculty Senate:
Departmental faculty senator 2001-2004, 2006-2010, 2013-2019
CALS Caucus Chair 2015-2019
Executive Board 2006-2019
Resource Policies and Allocation Council Chair 2013-2015
Resource Policies and Allocation Council 2010-2015
Recognition and Development Committee member 2013-2014
FS (Faculty Senate) past-president 2012-2013
Member of the Student Affairs Ad Hoc Committee 2009-2013
Judiciary & Appeals Committee 2002-2010, 2012-2013
FS President 2011-2012
University Budget Advisory Committee 2010-2012
Governance Council 2001-2002, 2010-2012
FS president-elect 2010-2011
Committee on Committees Chair 2010-2011
Member of the Teaching Academy Task Force 2008-2011
Judiciary and Appeals Council Chair 2006-2010
Judiciary and Appeals Council 2002-2004, 2006-2010
Chair P&T Task Force 2005-2010
Honorary Degree Committee 2002-2008