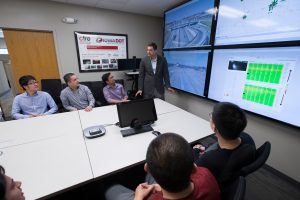 Iowa State University's Department of Civil, Construction and Environmental Engineering (ISU CCEE) has named Anuj Sharma the Pitt-Des Moines Inc. (PDM) Professor in Civil Engineering.
"Contributions such as these form stepping stones to explore transformative solutions for next generation civil infrastructure systems," Sharma said of the professorship.
Sharma is an associate professor of transportation engineering and holds a joint appointment as a research scientist with the Institute for Transportation. In these positions, he teaches transportation engineering courses to undergraduate and graduate civil engineering students, conducts research in the transportation operations area and participates in numerous professional organizations. Sharma's research has been recognized by many funding agencies.
Sharma is currently leading research at the REACTOR (REaltime AnalytiCs of TranspORtation data) laboratory. The high performance cluster (HPC) assembled for the lab is able to ingest multiple streams of real-time data from multiple sources. The current efforts are focused on ingestion, real-time analytics, batch processing, visualization/front end development and archiving of data streams.
In 2001, Pitt-Des Moines Inc. (PDM) contributed $1 million to the ISU Foundation to establish the Pitt-Des Moines Inc. Endowed Professorship in Civil Engineering. This endowed faculty position was the first for ISU CCEE.
For more information, visit our website, www.ccee.iastate.edu/research/. Also, follow ISU CCEE on social media, including Facebook, Twitter, Instagram, Snapchat and LinkedIn (search "Iowa State University Civil, Construction and Environmental Engineering" and "ISUConE").