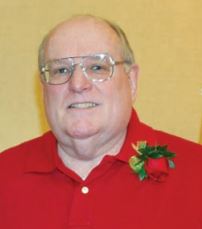 Ralph "Pat" Patterson, retired assistant professor and alumnus of Iowa State University's Department of Electrical and Computer Engineering (ECpE), passed away on August 26, 2018.
Patterson, who retired from Iowa State in 2007 and was also a retired colonel from the Army Reserve, first received his electrical engineering bachelor's degree from ISU in 1963. Upon graduation, he was stationed by the Army in Maryland and spent nine years on the East Coast, working in the Nuclear Effects Lab and later for a small general instrumental and electronics services company. He returned to Iowa State in the 1970s to pursue a master's degree, which he earned in 1976, and to work with the College of Engineering's freshman engineering division. In 1981, then ECpE Department Chair J.O. Koplin hired Patterson to perform student advising and teaching roles. Shortly after, Patterson initiated one of the first advising centers in the College of Engineering and on the Iowa State campus. Patterson dubbed the department's advising center "Student Services." He remained with Student Services as an advisor through 1995 and saw the advising center grow. During that time, Patterson also helped put together the design concept for the electrical engineering senior design course. This course allowed students to work on real-world engineering projects during their senior year. It was a voluntary course for students until the electrical and computer engineering senior design courses were integrated in the 1990s.
Another highlight of Patterson's career involved working on the Mobile Demonstration Lab for Environmental Screening Technology, a unique technology for renovating soils contaminated with lead, chrome, and radioactive materials developed through the Ames Laboratory's Technology Integration Program. He and his colleagues from multiple engineering disciplines took lab-level technology for contamination of soils and put it into a mobile lab that could be used in the field.
"Pat was a faculty memory who was always ready to go an extra mile for the department. He taught large classes like Introduction to Logic Design and ensured that he had extended office hours. He also made himself available to students outside the office hours to help students," said College of Engineering Associate Dean Arun Somani. "Professors John Lamont and Pat Patterson managed our senior design class for several semesters and supervised multiple senior design projects together. This was a large workload that the team of John and Pat was willing to undertake when we needed it most. He was a pleasant person and fun to talk to and share ideas. Education was his passion, and he remained engaged until his retirement."
During his time as a student at ISU, Patterson was a member of the Army ROTC, Interfraternity Council, several departmental activities and Homecoming and VEISHEA committees. Patterson was also a member of Eta Kappa Nu, the International Honor Society for Electrical and Computer Engineers; the Phi Eta Sigma organization, which promotes social, academic and professional excellence among high achieving undergraduate students at Iowa State; the college military honor society National Society of Scabbard and Blade; and Tau Beta Pi, an engineering honor society.
"Pat Patterson was a devoted advocate for all ECpE undergraduates. He carefully listened to their questions and concerns (technical, general or personal). His response was always thoughtful without prejudgment and usually spot-on with options. His eyes sparkled to match an infectious perma-smile," said Richard "Dick" Horton, ECpE alumnus and professor emeritus. "I best remember Pat as a devoted mentor for senior design projects, keeping them on track and on time with equal attention to technical issues and documentation. End-of-semester presentations to peers, faculty and external sponsors of projects were often the most challenging, yet important, part of the course. Coover Hall was Pat's home away from home, and every day was a good day."