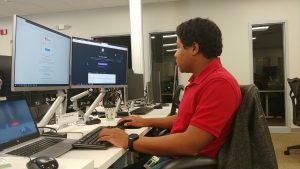 Dylan Hodge, a junior in software engineering in Electrical and Computer Engineering (ECpE) at Iowa State University, and Cristian George-Nanetti, a sophomore in computer engineering in ECpE at ISU, are both currently working with John Deere while pursuing their degrees.
They are both working at the John Deere Technology Center at the ISU Research Park. According to Hodge and George-Nanetti, employment at John Deere is unlike many other job opportunities — in the best way.
"The company culture is something that actually really shocked me when I started," George-Nanetti said. "They want us to learn, and they are giving us a good opportunity for that."
"It's a pretty awesome company to work for," Hodge said. "I haven't run into anyone that didn't like their job, which is very encouraging when you're looking for a long-term career."
At John Deere, Hodge does a lot of Python scripting and various scripts that benefit his team. George-Nanetti works under the vulnerability management team, which entails a lot of vulnerability investigation, or analyzing cyber threats and understanding where people can hack, then fixing that error.
Hodge and George-Nanetti both began their journey with John Deere last spring and worked a lot over the summer. Because of school, the two are currently employed at the John Deere Technology Center, located at the Research Park in Ames.
While both Hodge and George-Nanetti are fairly new to working with John Deere, they both were impressed with the company on their first day.
"I thought that I would just be doing a lot of basic work and tagged onto a lot of projects being told what to do, but it's not that at all," George-Nanetti said. "I wasn't just put as an aide for a project. Another student and I were both placed to work and make our own executive decisions in a vulnerability project we did."
George-Nanetti and Hodge both have separate and different duties with John Deere, but they still interact with each other and are even working together on a project.
"Cristian and I are on different teams, but one thing about this work site is they encourage people from different teams to work together," Hodge said. "So I am working on something with Cristian right now, even though we are on different teams."
Both Hodge and George-Nanetti say there is a lot of networking available when working with John Deere. Since the company encourages employees working together on a variety of teams, the employees tend to meet new people often.
"Over the summer, we had about six meetings where people from different teams would come to Iowa State and tell us about their teams. Now, a couple years down the line when we really get into the company, people will know who we are," Hodge said.
Not only does John Deere try their best to allow employees to network, but they also have a large variety of opportunities at their Technology Center in Ames, as well as various John Deere Units, so students at Iowa State can work with John Deere with almost any degree. And once you get the degree and become employed with John Deere, that doesn't mean you are stuck in that field forever, Hodge says.
"John Deere doesn't only limit you to your major," Hodge said. "They allow you to expand your horizon by going into different fields. All you need is that four-year degree."