It's a week of firsts for Iowa State University's Design-Build Institute of America (ISU DBIA) Student Chapter. On Friday, the team earned first place at the Design-Build Institute of America Student Competition.
READ: IOWA STATE UNIVERSITY WINS 2018 NATIONAL DESIGN-BUILD STUDENT COMPETITION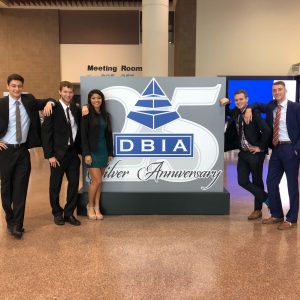 The team is comprised of five students. Trent Cork, Gus Marty and Brett Poulsen are all construction engineering students in Iowa State University's Department of Civil, Construction and Environmental Engineering (ISU CCEE). Sirina Reed and Zachary Hansen are architectural students in Iowa State University's Department of Architecture in the university's design college.
Cork is also the president of the club. As a veteran member of ISU DBIA, Cork has competed in two previous competitions.
"Design-build is more of a dynamic delivery method," he explains. "You really have to understand how you are going to engage everybody on the project and work with all the different stakeholders."
This year, the team was tasked with design and construction plans for a fictitious two-to-three story resident hall on Iowa's own Grinnell College. Cork says the team had to plan for classroom and living spaces, dining areas, meeting rooms and gathering rooms. ISU's College of Design further describes the project as a live-work environment designed in accordance to LEED platinum expectations. It would be a carbon negative building. The plans emphasize inclusive design and student safety with clear sight lines and security walls.
Cork was one of two returning students from the 2017 competition. Cristina Poleacovschi is an assistant professor of construction engineering and ISU DBIA's faculty advisor.
"Having great student leadership helps motivate the team members and push them through the competition," Poleacovschi says. "Also, adding a strong, motivated architecture team is very important. Finally, the team has worked for years on building a knowledge base."
Jennifer Shane knows first-hand about ISU DBIA's evolution from new kid on the competition block to national champions. Shane is an associate professor in construction engineering, and she's a past advisor of ISU DBIA. She recalls that Iowa State first had a student DBIA competition team in 2014.
"It is exciting to see the students grow," Shane says. "Each year there are returning students and new students on the team, and the returning students are able to mentor new students and support their growth, both in the competition and in understanding design-build, which is a project delivery method that many of them will experience during their career."
She also points out the teamwork involved with a successful proposal.
"The DBIA Student Competition is unique in that it is truly cross-disciplinary," she says. "Students from architecture and engineering are needed in order to succeed. The students that compete gain an appreciation for working outside of the silos that are often present in the academic setting."
It's this ability to reach across disciplines that put the team over the top. Poleacovschi encourages ISU DBIA members to keep up this collaboration.
"Continuing to have a strong team in both disciplines, construction and design, will be an important focus to the team next year," she says.
---
Follow ISU CCEE on Facebook, Twitter and LinkedIn (search "Iowa State University Civil, Construction and Environmental Engineering" and "ISUConE"). NEW: now follow ISU CCEE on Snapchat and Instagram for the latest updates. Find our website at www.ccee.iastate.edu.