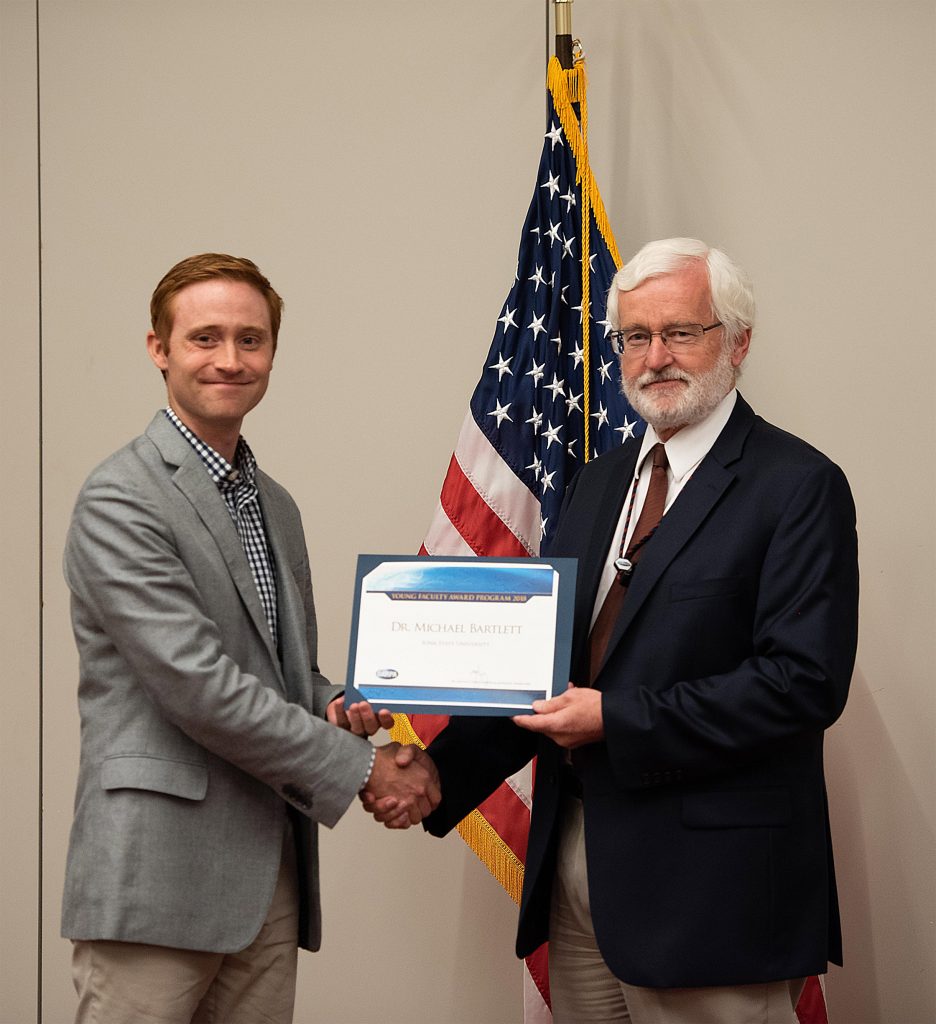 Michael Bartlett, assistant professor of Materials Science and Engineering at Iowa State University, recently received the Young Faculty Award from the Defense Advanced Research Projects Agency, or DARPA. The award was given for his project entitled "Rapid, High Force Actuators through Mechanically 'Invisible' Heat Sinks."
According to DARPA's website, "The objective of the DARPA Young Faculty Award (YFA) program is to identify and engage rising research stars in junior faculty positions at U.S. academic institutions and introduce them to Department of Defense (DoD) needs, as well as DARPA's program development process. The YFA program provides funding, mentoring and industry and DoD contacts to awardees early in their careers so they may develop their research ideas in the context of national security needs… The long-term goal of the YFA program is to develop the next generation of academic scientists, engineers and mathematicians in key disciplines who will focus a significant portion of their careers on DoD and national security issues."
Through his research, Bartlett, who has been at Iowa State a little over two years, is hoping to create actuators, or rapidly moving systems, that can behave like human skin. He wants to create soft materials that can transport heat and keep the material cool for enhanced performance.
"The question is – how do we make materials that are soft, stretchable and able to conform to complex shapes while maintaining advanced function and thermal conductivity? It needs to be soft while being able to transmit electricity or be able to change its shape and properties in response to the conditions," Bartlett said. "Soft materials are traditionally poor at moving the heat away from the electronics and active components. If heat accumulates in that system, it will stop functioning."
Bartlett finds inspiration from a familiar and personal source: Nature.
"A lot of the work we do is bio-inspired – human skin is soft, can self-heal, can sense its environment, can react to its environment. It's a multi-functional material," he said. "This is in contrast to rigid electronics, which are flat and inextensible. Biology is soft, curved and stretchable."
Bartlett wants to take this skin-like material and marry it with technology. For example, his work could make prosthetic devices, or even robots and machines, similar to human skin and its biological functions. These technologies would borrow the multi-functionality seen in nature and augment the performance, making the device more comfortable to use or wear and providing people with better functionality. Imagine a robotic arm — the more human-like the materials, such as a soft exo-skeleton, the more comfortable and efficient the device may be for the wearer.
"I'm really excited about the award." Bartlett said. "This will help push forward new generations of robots and electronics that will be more human friendly, which will enable new types of health monitoring, or robots that can assist the elderly, who need better functionality that's comfortable, lightweight and useful. This could really improve someone's life."